September 2021
current events
You can track Tucson and Pima Country Covid levels. Let's be happy Zoom is available to us for as long as we need it.
Here is a lot of detail on Pima County, AZ.
iOS & Apple news
We have all been awaiting for this. It just happened today, here it is! Mark you calendars. One week from today, on Sept 14, 2021:
We're California Streaming on September 14th. See you real soon. 🏞 #AppleEvent pic.twitter.com/OjOvJFXlHd

— Greg Joswiak (@gregjoz) September 7, 2021
And here is the announcement on Apple's won webpage.
Apple's announcement Event Page Features AR Logo on iPhone, points out MarRumors and when you view it on an iPhone, you can tap the logo and engage the AR feature (assuming your iPhone supports it). A sign of things to come?
Chip supply limitations might cause Apple to raise prices, some analysts prognosticate, according to MacRumors
iPhone 13 expectations?
[ RUMORS ] As usual, MacRumors compiled many of the more credible & reasonable iPhone 13 expectations and hopes.
Apple Watch 7 expectations?
[ RUMORS ] hopes, rumors and expectations of the new Watch 7, compiled by MacRumors: new dimensions, flatter, and health features?
Apple Watch Series 7 Will Be Available in Limited Quantities At Launch, prognosticates an analyst, reported by MacRumors.
iOS 15 is coming
Apple announces first states signed up to adopt driver's licenses and state IDs in Apple Wallet. Apple `announced that it is working with several states across the country, which will roll out the ability for their residents to seamlessly and securely add their driver's license or state ID to Wallet on their iPhone and Apple Watch. Arizona and Georgia will be the first states to introduce this new innovation to their residents, with Connecticut, Iowa, Kentucky, Maryland, Oklahoma, and Utah to follow.'
( cont'd) `The Transportation Security Administration (TSA) will enable select airport security checkpoints and lanes in participating airports as the first locations customers can use their driver's license or state ID in Wallet. Built with privacy at the forefront, Wallet provides a more secure and convenient way for customers to present their driver's licenses and state IDs on iPhone or Apple Watch.'
Everything New With the iOS 15 Notes and Reminders Apps, a nice overview by MacRumors.
Apple child protection announcements
Last month, we did not get to hold an iPUG meeting and that was almost exactly the time when Apple dropped a proverbial bomb and announced new child protection features that caused approximately 300 thousand earthquakes in the tech community. So we have some catching up to do. Here is a very brief overview of the aftershocks that ensued.
What happened?!
Apple announced 2 new features coming with iOS 15. One feature is to help identify anyone who uses Apple's iCloud servers to store previously-known photographs of CSAM content. (CSAM = Child Sexual Abuse Material).
Apple's 2nd feature is to help curb the so-called `grooming' of underage children by potential sexual predators, where nude or sexually explicit photos graphs are sent to children via the Messages app. To do so, Apple announced that it will use AI to automatically `recognize' and blur such images and offer the child the chance to skip viewing this or to tap to view. If the child chooses to view, the parent will be notified. (This feature is ONLY available to family accounts with parents choosing to enable it.)
Here is Apple's description of Expanded Protections for Children. This page also includes papers by researchers in encryption, security and privacy, stating that Apple's unique solutions protect privacy and security.
And then a lot of commentators got it wrong, some got it right, and many were upset and very disturbed at the seeming loss of privacy protections, despite Apple's good intentions.
Not all commentators got it wrong, however, and many prominent ones have been very vocal about slippery-slope concerns, unintended security and privacy holes, and other potential dangers.
The Electronic Frontier Foundation voiced a lot of valid concerns.
Joanna Stern of the WSJ interviewed Apple's Creg Federighi on the new features. This is worth watching (11 mins):
Here is a (40-minute) overview with sensible commentary from Rene Ritchie:)
Here are some technical concerns, with portions of Apple's design.
Then, last Friday (Sept 3, 2021), Apple announced it will delay the rollout of these two features, as they have become very controversial, the WSJ reports. `We have decided to take additional time over the coming months to collect input and make improvements before releasing these critically important child safety features.'
The Electronic Frontier Foundation said it is `pleased' Apple is delaying these features and now pressures Apple by posting: Delays Aren't Good Enough—Apple Must Abandon Its Surveillance Plans.
Nobody is in favor of child exploitation, of course. The concerns have to do with Apple opening a back-door that cannot be secured. It `would lead to the censoring of protected speech, threaten the privacy and security of people around the world,' argues the EFF.
A little more on this topic which will not likely go away soon:
Kara Swisher's Sway podcast released its latest episode with a focus on Thorn, a non-profit organization whose aim is to stop online child sexual exploitation. Here is the podcast on Apple's Podcast app and here is the Overcast podcast link. The podcast is an interview of `Ashton Kutcher and Julie Cordua discuss Apple's new tools to fight the sexual exploitation of young people online and what the trade-off might be for privacy'. Julie Cordua is the Thorn's CEO, and Ashton Kutcher co-founded Thorn with his then-wife Demi Moore.
Here is a quote from the interview:
`The National Center for Missing and Exploited Children revealed that its cyber tip line had 21.7 million incidents of C.S.A.M. in 2020. That's an increase of 28 percent from 2019. Much of the material didn't come from porn sites, but from Facebook. Facebook accounted for about 95 percent of reports across all platforms. Was that a surprise to you?'
Here is the entire the podcast transcript.
other Apple and iOS news
An area for automotive testing outside of Phoenix, AZ, which was rumored to be used by Apple, is reported to be purchased for $125 million by the firm that has been leasing it for the past five years, according to AZ Big Media. It is rumored to be an Apple acquisition for self-driving cars.
Tim Cook on his recent conversation with Malala Yousafzai:
We're all so moved by the way you inspire and encourage millions with your deep care for education and equity. ❤️ https://t.co/ZSw0XSOjOs

— Tim Cook (@tim_cook) June 3, 2021
Loved talking with @tim_cook, who I am lucky to call my friend, for @britishvogue. We discussed our first meeting, pandemic habits, our favorite TV show, the importance of online privacy, @apple's commitment to the environment, @malalafund & much more. https://t.co/evT3OSTefX

— Malala (@Malala) June 3, 2021
AirTags work, concludes a story posted on Reddit: Stolen Wallet, An Airtag Story. While they are not designed to prevent theft, they work in locating items in public spaces, and especially crowded spaces where more iPhones are likely to be.
Here is a look at AirTags helping the owner find lost items, including a backback in public transit:
And speaking of finding lost items, someone dropped his iPhone 12 in a canal in Berlin. He got it with magnet fishing. Read the short Twitter thread with photos:
Something happened tonight. A friend of mine dropped his iPhone 12 Pro in the canal in Berlin. It disappeared in the mud. He waded through the 3ft deep water. No way to find it. But he found a Nintendo Switch instead.

— Frederik Riedel 🐻‍❄️ (@frederikRiedel) May 29, 2021
Federico Viticci's review of the new iPad Pro is thorough and enthusiastic: iPad Pro 2021 Review: The Future on Standby. He praises the new iPad Pro for its display, performance, Thunderbolt connectivity, Center Stage feature, and much more. He concludes that this model will last several iOS annual updates, given its power. He also conclude that it `feels like driving a Ferrari in your neighborhood's cul-de-sac. We need new roads. We need iPadOS 15 to be the leap forward for the iPad platform we've been waiting for. That this new iPad Pro is especially waiting for.'
Apple opened a new store in Rome's historic Palazzo Marignoli.
Apple Music
Apple acquires classical music streaming service Primephonic. `Apple today announced it has acquired Primephonic, the renowned classical music streaming service that offers an outstanding listening experience with search and browse functionality optimized for classical, premium-quality audio, handpicked expert recommendations, and extensive contextual details on repertoire and recordings.'
A reminder that Apple Music offers Spatial Audio: Apple's implementation of Dolby Atmos. This is automatically included to all subscribers. All you need is a pair of headphones that support it. For example, Apple's AirPods Pro or AirPods Max.
Apple Music offers a couple of introductory audio guides showcasing mono, to stereo, to Spatial Audio.
photography & video
A very interesting review of The M1 iPad Pro Cameras by the makers of Halide camera app.
iOS apps
Bernie discovered QuakeFeed, an app that shows you info on earthquakes around the globe.
The Etsy.com iOS native app offers Augmented Reality (AR) visualization for many products on the site.
The app Procreate is both fun and professional, for professional artists and enthusiasts alike. One of the many new features they have introduced is FacePaint. This feature lets you create paintings that you can place on your face. Here is a demo:
Apple recently featured `Made on iPad' on Apple's YouTube channel. Apple writes: `The official music video for "brutal" by Olivia Rodrigo. Directed by Petra Collins. Featuring brutal masks, Made on iPad using the FacePaint feature on the Procreate app.'
More info on Apple's `Made on iPad' feature with Procreate.
British artist and educator Roz Hall demonstrates using Procreate to copy the famous self-portrait by Francis Bacon:
My third Francis Bacon study, another of his wonderful self portraits. Copying a piece of art forces you to REALLY look and consider the artist's decisions. Painted on iPad with @procreate pic.twitter.com/YrMXWuSRj8

— Roz Hall (@rozhall) September 5, 2021
As a reminder, Francis Bacon's self portrait is a diptych and was auctioned at Sotheby's New York for $35 Millionin 2016: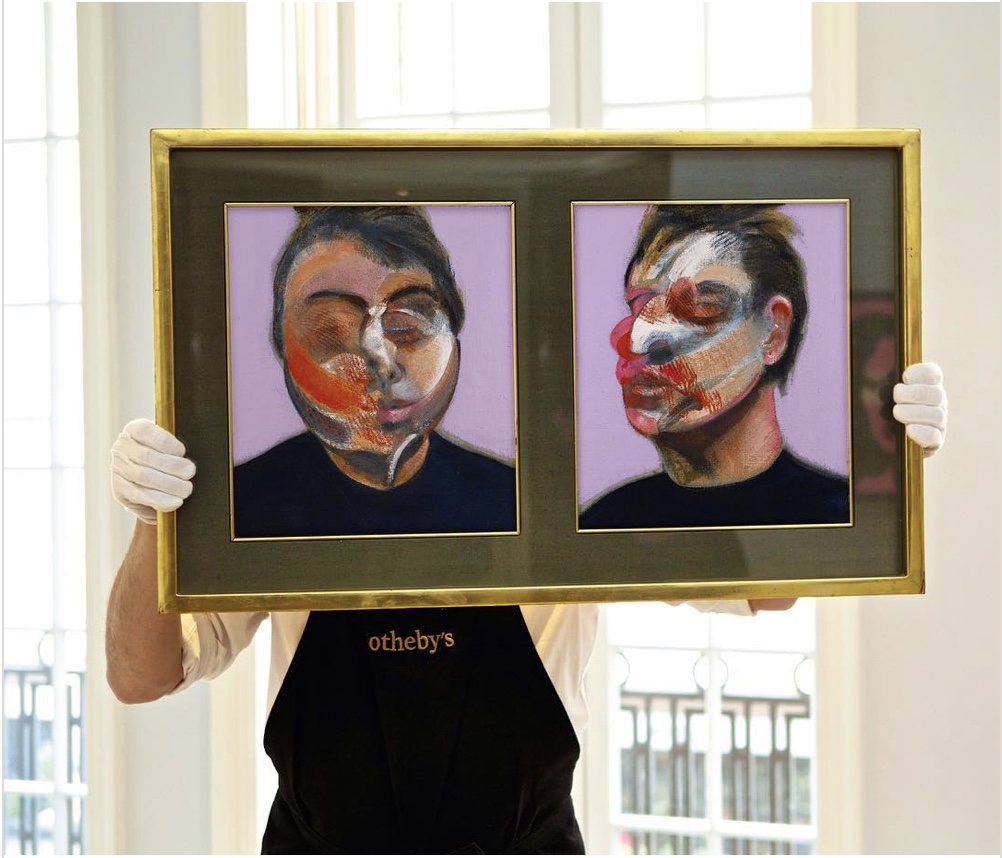 podcasts
If you are tired of `serious' podcasts, you might enjoy the episode of Don't Ask Tig, with Tig Notaro and LeVar Burton. Writer, stand-up comic and actress Tig Notaro talks with LeVar Burton about their roles in Star Trek and entertain questions from listeners.
FYI, all 6 of Steve Jobs's appearances at the @allthingsd conferences - including the joint session with Bill Gates - are available for free in both pristine video and audio on @ApplePodcasts. We donated them after his death as a memorial. https://t.co/nrtYTC4hP5

— Walt Mossberg (@waltmossberg) January 12, 2021
Steve Jobs at the D: All Things Digital Conference (Video): from 2003 to 2010 plus a retrospective from 2012.
gadgets & accessories
Mary Anne told us about using a drone with her iPhone to photograph her backyard while it's being landscaped and while new irrigation lines are added. She used DJI Mavic Mini model.
Pay
Apple pay continues to enjoy a growing number of stores and businesses that accept it as a form of payment. Meanwhile, one of the cards that can be used with Apple Pay is Apple card:
Apple card customers ranked it as the No. 1 in customer satisfaction, among Midsized Credit Card segment, according to J.D. Power, announced Apple.
And yet, Survey suggests just 6% of iPhone owners in the US use Apple Pay in stores, reports 9to5Mac.
watch
Roger S. points out that the calculator on the Apple Watch has Tip functionality built in, including the ability to calculate a split bill.
general apps & services
Many of us have a friend or two who ask for technical help that they could easily discover themselves by a simple internet search. DuckDuckGo offers LMDDGTFY.com, for when you want to say `Let Me Duck Duck Go This For You' and show them the steps ;-)
If you need to manage many lists on Twitter, there are several 3rd party tools, but is probably nothing beter than TwitterListManager.com.
next iPUG meeting
Our next iPUG meeting is on Tuesday, October 5, at 7 pm.