November 2023
Apple and iOS news
Apple held an event called Scary Fast on Oct 30, the day before Halloween. They unveiled the new Macs with the new M3 chips.
You can watch the Apple event, it's about 30 minutes long and is chapterized.
Use Apple's laptop Compare page to customize the comparisons you want to make.
Ars Technica reviews the new M3 Max 16'' MacBook Pro: `A solid generational upgrade for a laptop that wouldn't be possible with Intel.' This is a very thorough review with lots of performance and other info.
Behind the scenes from last week's Apple event was arguably equally interesting:
Apple released a Behind-the-Scenes brief video: `Take a look at an Apple Event shot on iPhone 15 Pro. The team behind the curtain talks process. The director shoots in low light with amazing results — while treating iPhone 15 Pro like a real pro camera. Pro workflow specialists name-drop the trio supercharging video on iPhone 15 Pro: ProRes, Apple Log, and USB-C. World-renowned colorist Stefan Sonnenfeld explains how the footage gives him more freedom to create. And the editor talks about bringing the vision to life seamlessly.'
Filmaker Michael Tobin dives into how Apple filmed this and offers commentary:
There was some criticism on social media that Apple used professional equipment in addition to an iPhone 15 in order to film the Mac event last week. Such criticism is not really fair nor cognizant of what it takes to create any professional video, even when traditional cameras are used, Stephen Robles points out:
Barbra Streisand called Tim Cook to ask him to fix how Siri pronounces her name. "My name isn't spelled with a 'Z'," she argued. "It's Strei-sand, like sand on the beach. How simple can you get?" "And Tim Cook was so lovely. He had Siri change the pronunciation… I guess that's one perk of fame!" she said, according to the BBC.
Apple released a new Apple Pencil that charges by USB-C cable and is $50 lower in price. So there are 3 different Pencil options.
Apple released iTunes update for Windows an iTunes 12.13 update for Windows users, adding new functionality for podcasts and audiobooks.
Among teenagers, 87% own an iPhone, reports TheStreet. `According to new data from investment bank Piper Sandler, the iPhone has an incredibly brand loyal base of teenagers in the United States. In their 46th semiannual report on the consumer trends of young people, they found that 87% of teenagers they surveyed own an iPhone and that 88% of them plan to have an iPhone as their next phone.''
iOS 17
Apple shows how to download maps for offline use:
Here is how to create live stickers made from your own photos:
In Messages, if you tap the `+' just to the left of the text field, there are a bunch of apps that show up on a stack. If there are too many choices, and you know you only need a few, you can ensure the ones you don't want do not show up. Just go to Settings Messages > apps and uncheck the ones you don't want to clutter your view.
With iOS 17, there are a bunch of new ringtones and sounds. It's worth checking them out. Go to Settings > Sounds & Haptics and try them out. It's worth checking the new text message tones.
With iOS 17, your iPhone can now ping your Apple Watch. Go to Settings > Control Center and enable `Ping my Watch'.
Standby Mode in iOS 17 is a very nice new feature, be sure you check it out. It requires that the phone be off but attached to a wireless Qi charger and in horizontal (landscape) orientation. You can customize it by going to Settings > Standby.
If you are an AirPod Pro user, with iOS 17 you have the option to mute / unmute calls easily by pressing the stem of an Airpod. Go to Settings > Bluetooth and select the Airpods, tap the `i' symbol and customize it as you wish. Olga has set it so that single press mutes/unmutes, and double-press hangs up.
You can adjust the speed of haptics. Go to Settings> Accessibility > Touch > Haptic Touch and select your preference.
Apple TV
Recently, Apple TV+ released Lessons in Chemistry, a tv series. `Set in the early 1950s, Lessons in Chemistry follows Elizabeth Zott (played by Larson), whose dream of being a scientist is put on hold in a patriarchal society. When Elizabeth finds herself fired from her lab, she accepts a job as a host on a TV cooking show, and sets out to teach a nation of overlooked housewives — and the men who are suddenly listening — a lot more than recipes.' Here is the trailer:
iOS apps
Permission slip lets you delete your digital history from dozens of companies, reports the Washington Post (gift link). They write: `Sick of companies grabbing and selling your address, birth date, location, online activity, dog food brand and even adult-film preferences? Oh boy, do I have some good news.' This is a very nice and free app created by Consumer Reports. It is somewhat limited currently but hopefully it will expand its scope. Consumer Reports gives an overview.
Patterns is an app to help you track and understand habits, especially those you aim to change. AppAdvice reviews Patterns. The app is free with in-app purchases.
Ground News is a news app that compares how different publications cover the news. It offers breaking news and the ability to compare how it is covered by different organizations at a glance. It offeres different levels of subscription starting at $10/year.
This is a soothing and minimal app: Sorting Therapy. You get to sort blocks of color in the correct order. Surprisingly calming.
podcasts
In a recent episode of the weekly podcast Naked Lunch, the hosts `warmly welcome a beloved Hollywood icon, an Emmy-winning legend, a surprisingly viral fisherman, and a recently anointed DILF -- none other than "The Fonz" himself. . . Henry Winkler' . From the description: `It's a very happy day as "Naked Lunch" Henry and Phil's friendship goes way back, and over a tasty spread from Courage Bagels, the "Naked Lunch" gang has a blast discussing Henry's amazing experiences on "Happy Days" with Ron Howard and Garry Marshall, his life-changing times working with Bill Hader on "Barry," how he met his wife Stacey, as well as some surprisingly and truly Fab stories about Lennon & McCartney and, yes, trout fishing too.
Note that Phil Rosenthal, one of the two hosts of the podcast Naked Lunch produces and stars in the Netflix series `Somebody Feed Phil'.
tips & tricks
This tip applies to iOS 16 and iOS 17. If you are shipping a parcel with UPS or any service with a bar code on the shipping label. Photograph it using your iPhone. Enable text recognition while viewing the photo. Then, tap the bar code and you will automatically be prompted to track the package with a link.
Sometimes FaceID slows down or stops working: Apple's tips to fix it.
gadgets & accessories
The ONLINE Switch Plus Fountain Pen is a stylus for your iPhone or iPad on one side and a fountain pen on the other side. It's inexpensive but has excellent recommendations by pen aficionados.
A portable iPhone stand & charger combo, the KU XIU Foldable Magnetic Wireless Charger charges you iPhone, Watch and AirPods Pro, while folding for travel. It supports horizontal (landscape) iPhone orientation for Standby Mode.
Pay
On oct 24, Apple removed the wording about `limited availability' of Apple Pay Later option, which suggests that Apple Pay Later has launched in the US, reports MacRumours.
watch
With watchOS 10, Apple release several new watch faces, including a fun new Snoopy watch face. How Apple Made the Ultimate Snoopy Watch: "You Wouldn't Believe the Minutiae", reports GQ Magazine.
Some watchOS users have noticed accelerated battery drain with v10.1. A fix is coming soon, Apple has acknowledged.
The newest Watch models, Series 9 and Ultra 2, offer support for the double tap gesture. The latest watchOS 10.1 release has just enabled this feature. How to use it, by Macworld. If double tap is not working for you, Apple offers troubleshooting steps.
Apple Watch is being leveraged to help flag signs of Parkinson's disease. PD affects more than half a million Americans and the rate has been increasing. STAT journal reports: `While there is no cure for Parkinson's and treatment options can be daunting, people with the disease can now turn to technology spawned by the Apple Watch to take an active role in their care much as continuous glucose monitors have helped people manage diabetes better. Over the past year, the Food and Drug Administration has cleared three Apple Watch apps from independent developers to track symptoms associated with Parkinson's that can help inform treatment decisions for people and their doctors.'
(cont'd) "I still don't think we've even scratched a fraction of what the potential could be," said Ray Dorsey, a neurologist and researcher at the University of Rochester who worked on the first study of Parkinson's using Apple devices in 2015. "I think we're going to rapidly get to a point where these tools are going to identify people who are at high risk for developing Parkinson's disease."
The mPower app has been available since 2015 and has enrolled over 10,000 participants and it's the largest Parkinson's Disease study ever created. Anyone can join, including those without the disease. This app helps researchers get data from the iPhone's gyroscope and other features to measure dexterity, balance, gait, and memory. This is providing researchers with insight into the factors that make symptoms better or worse, such as sleep, exercise, and mood.
[ RUMOR ] Bloomberg reports that Apple is planning detection of hypertension and slee apnea with the next generation of Apple Watch in 2024.
(cont'd) `A new sensor to detect when a person's blood pressure is elevated. The initial system won't show a user their exact systolic and diastolic measurements, but the company is working on a follow-up version for later that could. This will be coupled with a new blood pressure journal so a user can notate what was happening when hypertension occurred,' reports Bloomberg.
(cont'd) `A new system to detect sleep apnea. The Apple Watch will monitor a person's sleeping and breathing habits to predict if a person has the condition. An app will then recommend a user follow-up with a doctor,' reports Bloomberg.
AI
As AI is increasingly used in our daily lives, this section will cover some noteworthy aspects, good or bad.
You can use ChatGPT v3.5 for free or ChatGPT v4.0 for $20 on a monthly basis.
Tech journalist Harry McCracken shows his recent creations: Watch faces for his watch Series 9. He used DALL-E 3 to create these.
I have made so many custom Apple Watch faces since I got my Series 9 that it's almost at its 50-face capacity. pic.twitter.com/7W7aqwdn1K

— Harry McCracken 🇺🇦🇮🇱 (@harrymccracken) October 31, 2023
Note that you can use DALL-E 3 as a plug-in in ChatGPT 4, but the latter requires payment ($20 for a month). Alternatively, you can use the Bing Image Creator for free (it uses DALL-E 3). Olga used it to create some images, here are examples with the verbal (text) prompts she gave to generate them: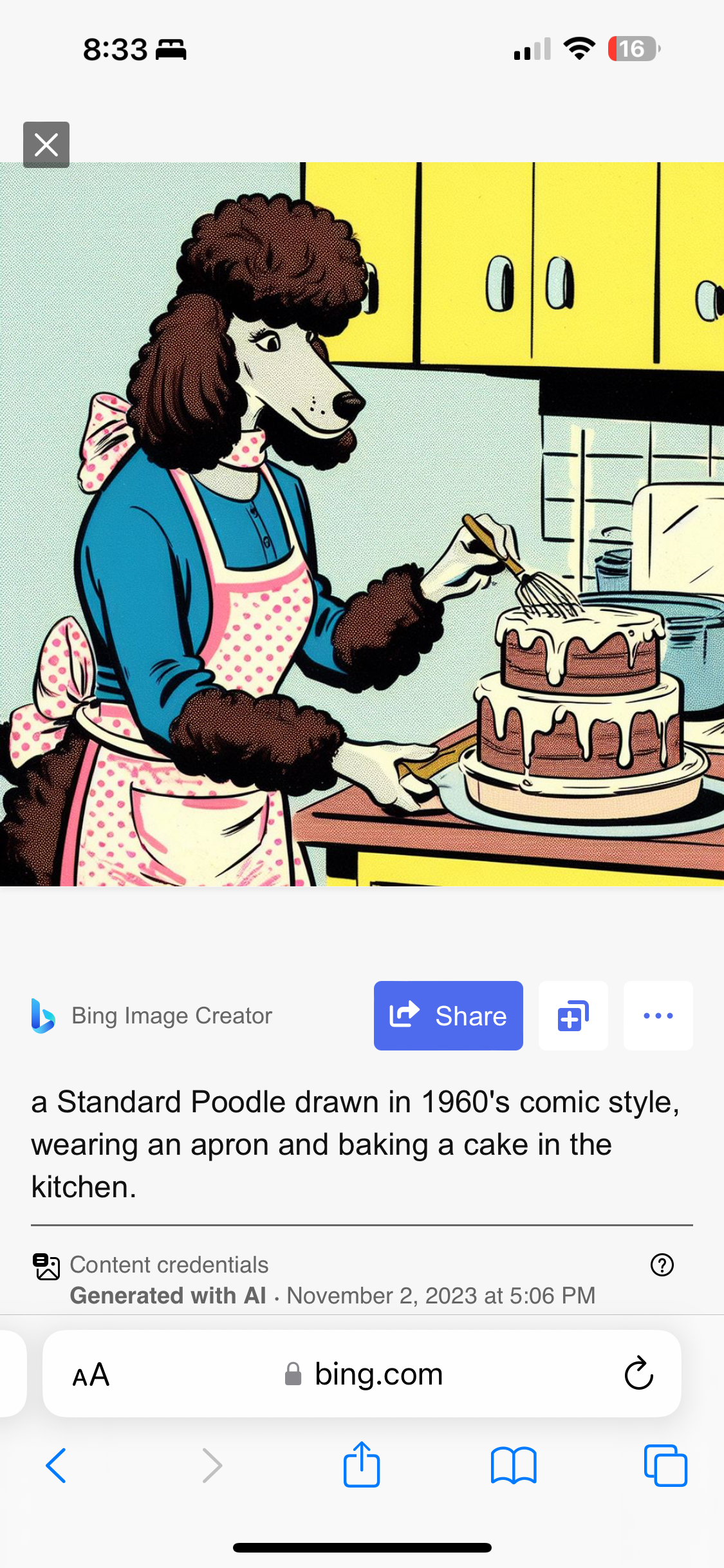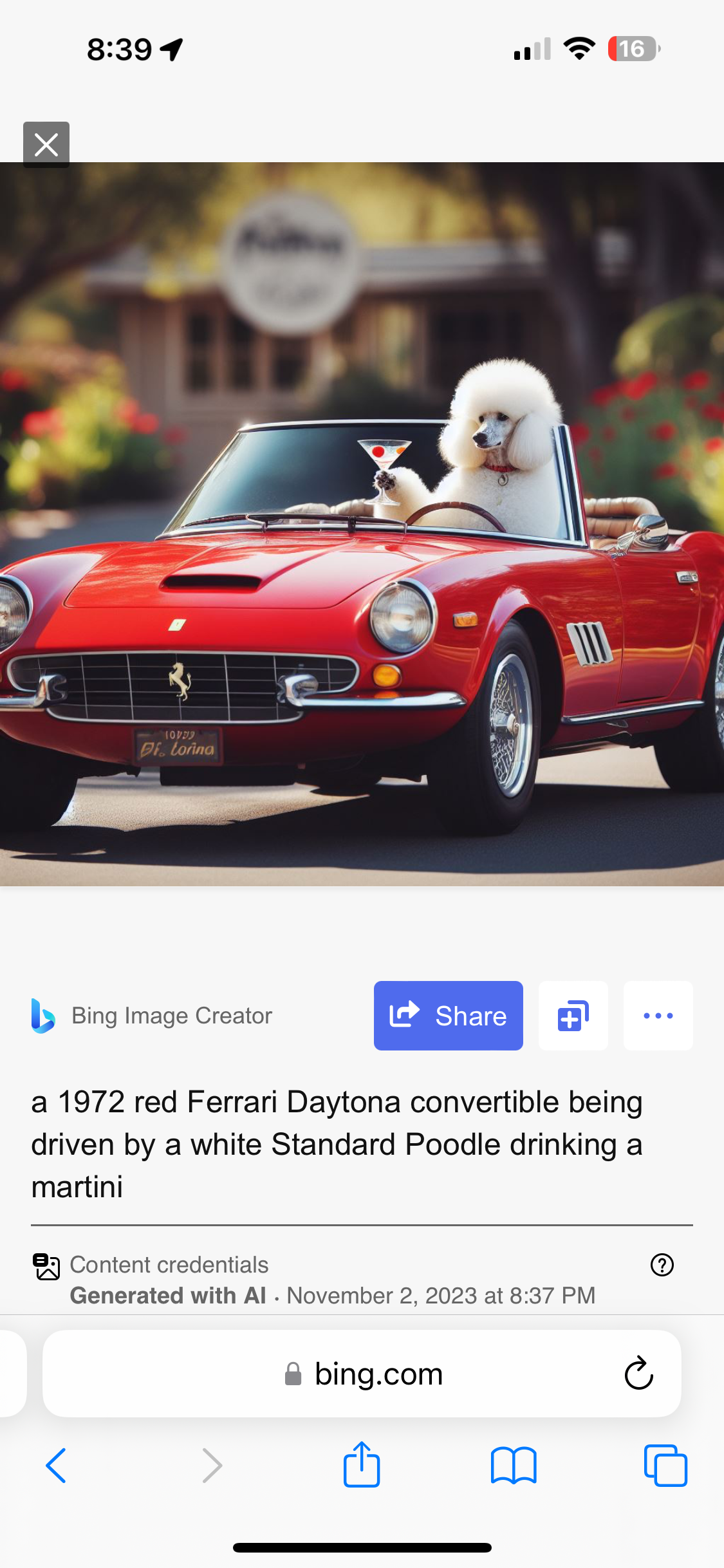 next iPUG
Our next iPUG meeting will be on Tuesday, December 5, 2023, at 7 pm. Have a happy Thanksgiving.