June 2018
PSA
Last week, the FBI made an urgent request: Reboot Your Router. The NY Times reports: Hoping to thwart a sophisticated malware system that has infected hundreds of thousands of internet routers, the F.B.I. has made an urgent request to anybody with one of the devices: Turn it off, and then turn it back on. The malware is capable of blocking web traffic, collecting information that passes through home and office routers, and disabling the devices entirely.'
[Breaking news today, June 5, 2018] Facebook gave data to Chinese Firm Flagged by U.S. Intelligence, reports the NY Times. `The agreements, which date to at least 2010, gave private access to some user data to Huawei, a telecommunications equipment company that has been flagged by American intelligence officials as a national security threat, as well as to Lenovo, Oppo and TCL.'
WWDC announcements
Here it is: June 2018 Keynote, with a link to the whole video, and an overview by Apple, of what was announced.
A preview of watchOS 5.
A preview of macOS Mojave.
A preview of Apple TV 4K
A quick overview: everything Apple announced at WWDC yesterday, by Macworld.
#WWDCnumbers
1 billion: Metal-enabled devices in use
10 billion: Siri requests per month
100 billion: Dollars paid to App Store developers
1000 billion: Photos taken with IOS devices each year

— Horace Dediu (@asymco) June 4, 2018
What devices will be able to upgrade? Here is a list, by Macworld.
iOS 12 brings iPhone X gestures to iPad, reports 9to5Mac.
With iOS 12, Apple is testing a feature that could kill police iPhone unlockers, reports Motherboard. `It's called USB Restricted Mode, and Apple has been including it in some of the iOS beta releases since iOS 11.3. The feature essentially forces users to unlock the iPhone with the passcode when connecting it to a USB accessory every time the phone has not been unlocked for one hour. That includes the iPhone unlocking devices that companies such as Cellebrite or GrayShift make, which police departments all over the world use to hack into seized iPhones.'
During the WWDC Keynote, Apple's Craig Federighi said that No, iOS apps will not run on the Mac. However later he indicated that Apple has been working on this.
Privacy and security core values for Apple. As reported by Loopinsight, at the WWDC they said:
`Apple believes privacy is a fundamental human right, which is why iOS has always been designed with built-in encryption, on-device intelligence, and other tools that let you share what you want on your terms. And with iOS 12, we're taking privacy even further. Safari now prevents Share buttons and comment widgets on web pages from tracking you without your permission. Safari also prevents advertisers from collecting your device's unique characteristics, so they can't identify your device or retarget ads to you across the web.'
Here are initial thoughts on WWDC, by Jim Darlymple, of Loopinsight.
other iOS and Apple news
NPR interview with Tim Cook, from this morning, during WWDC.
It's not just Amazon: Apple quietly explores N Virginia for 20,000 workers.
Apple's `Barbers' iPhone commercial won top honors at the ADC Awards:
The internet controversy over Laurel vs Yanny audio inspired the NYTimes to create a tool to let you hear both versions. Maybe. Olga has a conjecture: what you hear depends a lot on the device's speakers: lower quality and smaller speakers probably lead to Yanny.
Apple, Influence, and Ive: the greatest designer of our generation talks watches for the very first time, writes Hodinkee Magazine. They write, `In unusual form, Apple consulted with seven independent experts in the field of horology during the development of Apple Watch. It was a first for the company.' A very worthwhile read.
iOS apps & widgets
DayOne is a diary app for iOS, for the Mac, or both. It also has a Watch companion. If you use it on more than one device, it can sync across devices. They recently updated the app and offer a free and a `premium' subscription-based service with more features ($35/year, or $25/year for grandfathered subscribers). It is a very well thought out app and can be used as a personal diary, or to track a project, or as a travel journal, or to document a customer's case, and many more uses.
Here are several short articles on how to use DayOne. It can be password protected and it provides encryption.
Recall that a while back, Spaxtel was recommended by Olga as an app and phone service for making good and inexpensive international calls. Unfortunately, lately the service has been less reliable. There is a a list of alternatives, a crowdsourced set of recommendations.
BearBear has just been updated. Bear be used for simple note-taking or even for writing a book. Bear posted a declaration of intent: `Our declaration of intent for Bear, `our approach to building it, and our commitment to standards and privacy'. Additionally, they offer another tip: it can highlight syntax for over 20 code languages.
A close look at apps and setup on his iPhone home screen, by tech write David Sparks. Lots of good info on apps and how to organize them.
David Sparks has also released the iPhone Field Guide, a comprehensive digital guide on iPhone.
Kevin recommends Netshade VPN. It's also available for a limited time via this app bundle.
computational photography
With Apple's dual-lens camera systems, combined with intelligent software, the camera can now create depth maps. This way it understands how far or how close each point in an image is from the camera. This enables computational photography, where depth of field, shadows and lights can be adjusted in a realistic fashion, after the photo was taken, as if it was set up before the photo was taken and the effects were achieved optically. Apple already has this enabled with iPhone 8 and X.
new ad by apple highlights portrait lighting, reports Macrumors. Apple calls it a studio in your pocket.
We will see more and more 3rd party apps taking advantage of this. A nice example is Slor, an app Olga recommends.
tips & tricks
How to View, change, or cancel your subscriptions, from a Mac or iOS. This article shows how to manage those billed through Apple or billed though others.
Need a break from texts and messages and emails: Use this lesser-known feature to disconnect for a bit.
Do you ever need to fill out a PDF interactive form using Adobe Acrobat's Reader application? Sometimes it's the only option you have. The app is free but if you need to do anything else other than print to a physical printer, Adobe requires that you pay. Sending the file to another person will also require that they get Adobe PDF reader. This might not be easy (if the recipient is not tech savvy). Olga found herself in this situation. Adobe Reader disables the Mac's `print-to-PDF' feature. What can be done?
Olga found a wonderful tip that works: you need to pause your physical printer, spoof Adobe to think it's really printing to a physical printer, then use the Mac's CLI to grab the hidden PS file that gets generated, and rename it as a PDF.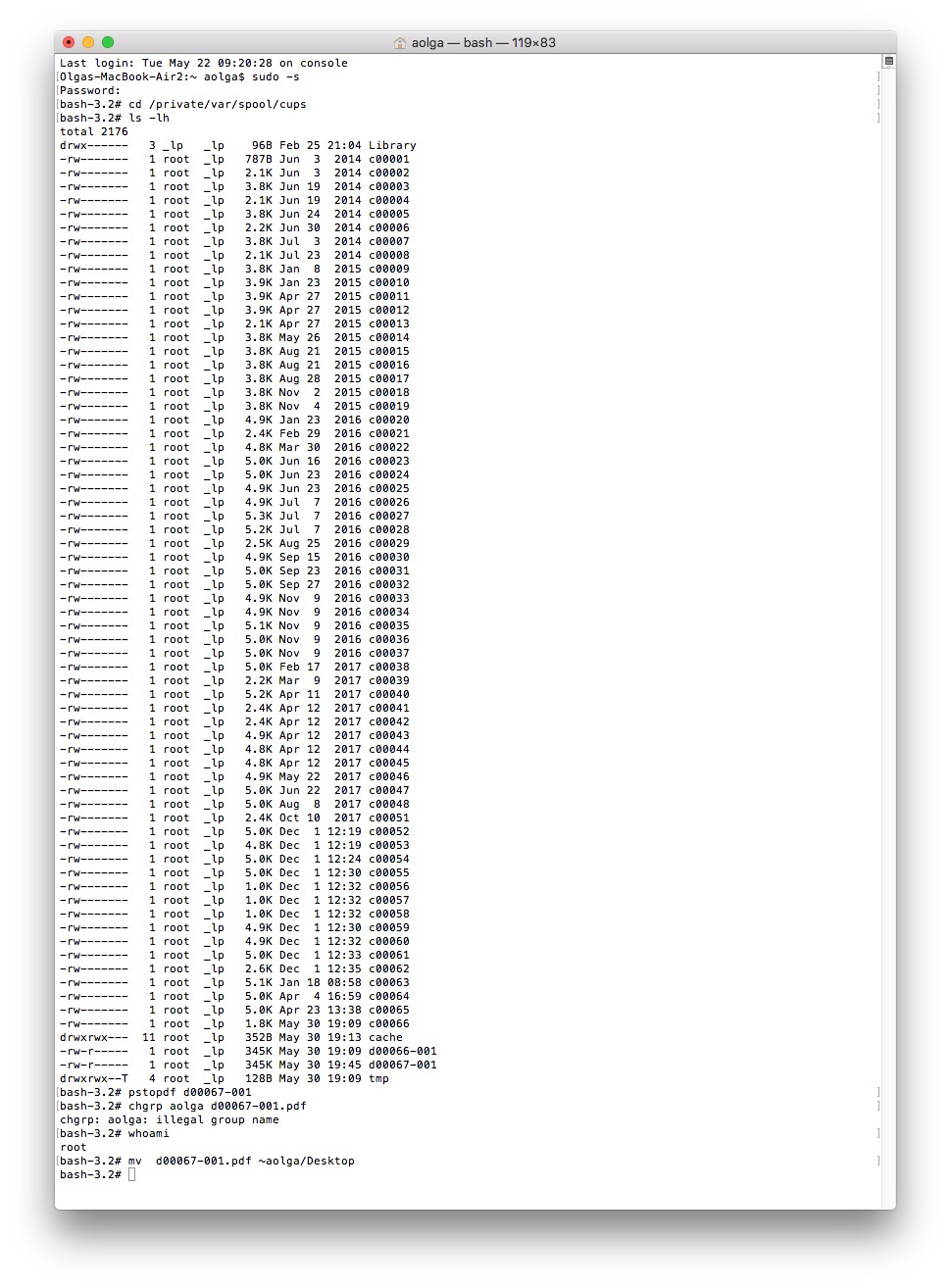 gadgets & accessories
Here is a window-mounted standing desk for your laptop or anything else you might like.
review of Logi Circle 2, by Apple Insider. `We've spent a few months with Logitech's flagship smart home security camera that gained support for HomeKit just last fall. After extensive usage, we have the verdict on one of the most popular HomeKit cams yet.'
Pay
How to send and receive cash via Apple Pay and Messages. It works beautifully.
watch
Second Life: Rethinking myself through exercise, mindfulness, and gratitude, writes federico Viticci. He outlines his experiences, facing cancer at a young age, fighting, and recovering his health and well-being, in part thanks to his Apple Watch.
Code found in watchOS 4.3.1 suggests future support for 3rd party watch faces, reports 9to5mac.
Apple releasednew Apple Watch bands for spring.
App developer David Smith writes about Apple Watch adoption, based on his observations from those using his apps. This is not necessarily representative sample of all Watch users, but it's still interesting.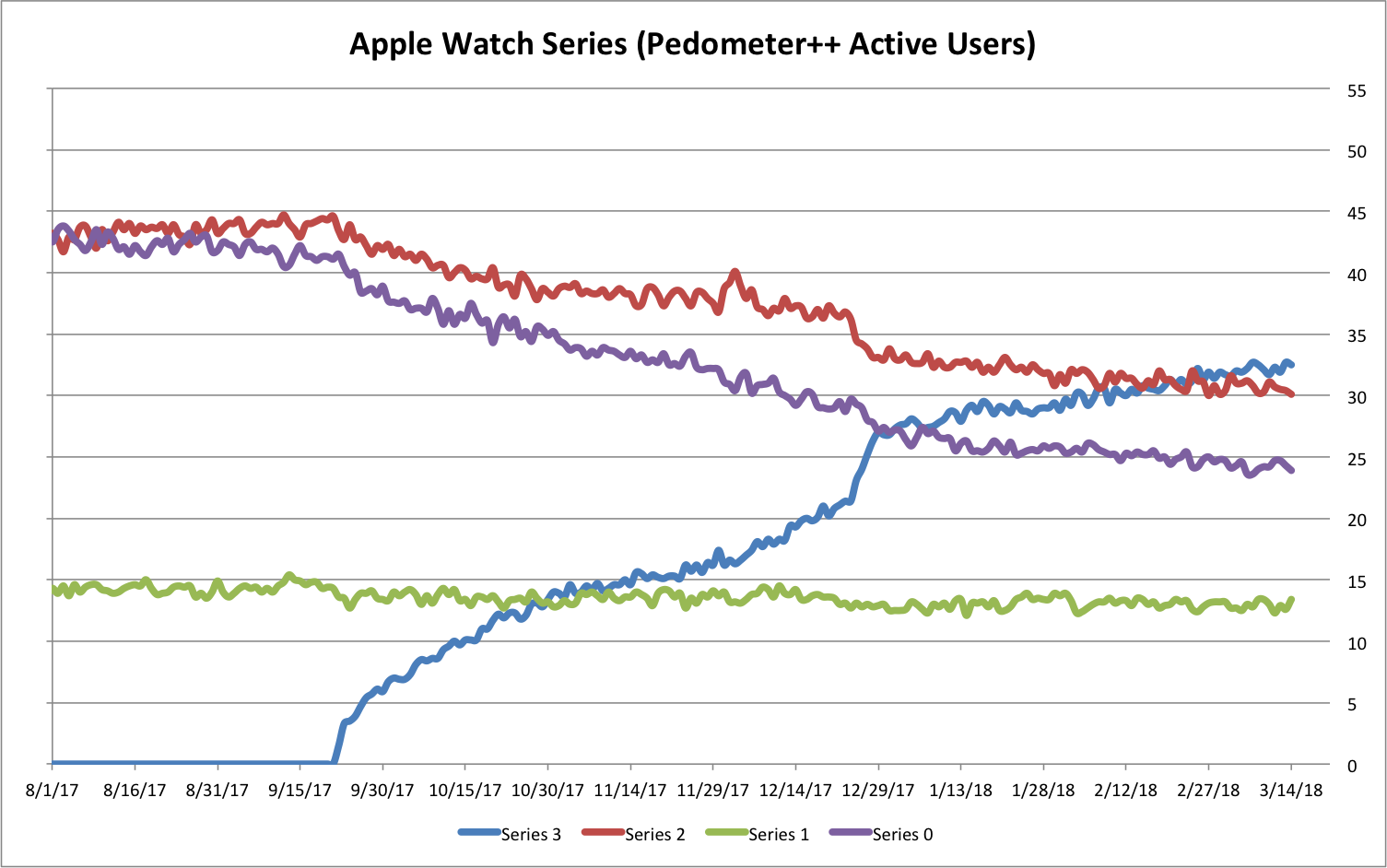 He observes, as shown on his graph above: `The Series 3 is being adopted incredibly quickly and just last week became the most popular Apple Watch overall amongst my users with 33% of the overall user-base.'
Study suggests AliveCor Kardia Band for Apple Watch can be used with AI algorithm to detect high potassium. `AliveCor, the company that makes an FDA-approved EKG band for the Apple Watch called KardiaBand, teamed up with the Mayo Clinic for a new study that suggests an AliveCor EKG device paired with artificial intelligence technology can non-invasively detect high levels of potassium in the blood', reports Macrumors.com.
privacy & security
What is GDPR? Read about how the European Union is protecting its citizens' privacy.
WSJ's Joanne Stern looks at privacy policies. She tells you how to read them without reading 400 pages. The article is behind a WSJ subscription paywall, but you can watch her video:
Here is a good example of a clear privacy policy, by A Book Apart.
Tim Berners-Lee, the founder of world-wide web, has written an Op-Ed column about the web. The Web Can Be Weaponised -- and we Can't Count On Big Tech to Stop It. `It's dangerous having a handful of companies control how ideas and opinions are shared. A regulator may be needed', he writes. `Today, I want to challenge us all to have greater ambitions for the web. I want the web to reflect our hopes and fulfill our dreams, rather than magnify our fears and deepen our divisions.' A worthy read.
Apple considers privacy a fundamental human right. Here is Steve Jobs in 2010, a year before he died, on privacy:
Steve Jobs tried to warn Zuckerberg about privacy in 2010.
Apple's Craig Federighi responds to renwed government push for a backdoor: Weakening security makes no sense, he says.
Zuckerberg's European Parliament testimony criticized, reports the BBC. `Mark Zuckerberg has apologized to EU lawmakers for the company's role in the Cambridge Analytica scandal and for allowing fake news to proliferate on its platform'.
If you care about privacy, delete Facebook, Instagram, and WhatsApp. Avoid using these apps and use blockers to block the share buttons corresponding to any of these apps on any websites.
How to Remove Facebook data from macOS.
Bernie points us to How a Hacker Proved Cops Used a Government Phone Tracker to Find Him. `The Hacker was found out through the warrantless use of a secretive surveillance technology known as a stingray, which snoops on cell phones. Stingrays, or cell-site simulators, act as false cell phone towers that trick phones into giving up their location.'