June 2017
PSA
This webpage has various Youtube videos embedded below. In some instances, if you view this page on Safari on iOS, Safari might crash. This is a known issue. Until there is a fix, you can use Puffin for iOS, another free web browser, or clear out your Safari's cache on iOS (this clears out history).
iOS and Apple news
Today, Tim Cook announced that Apple is focusing on autonomous systems in cars, reports Bloomberg News. He did not rule out making vehicles. The focus is on autonomy and `electrification'.
WWDC announcements
Apple has posted the entire WWDC Keynote (more than 2 hours) on their website.
Here is the WWDC in abbreviated version. Instead of 132 minutes, this one is 19 minutes! Worth watching. Go to min 8 to see iOS 11.
Tim Cook skipped the usual updates only to say `Apple is doing great'. They made 6 main announcements.
Regarding tvOS: Amazon is coming to the TV app (on iPhone, iPad and Apple TV), as well as to all Apple TVs. This includes Amazon Prime Video. This includes original content, thousands of movies and TV Shows. `Later this year.'

Apple Watch is `by far' the number 1 selling smartwatch and number 1 in customer satisfaction, again.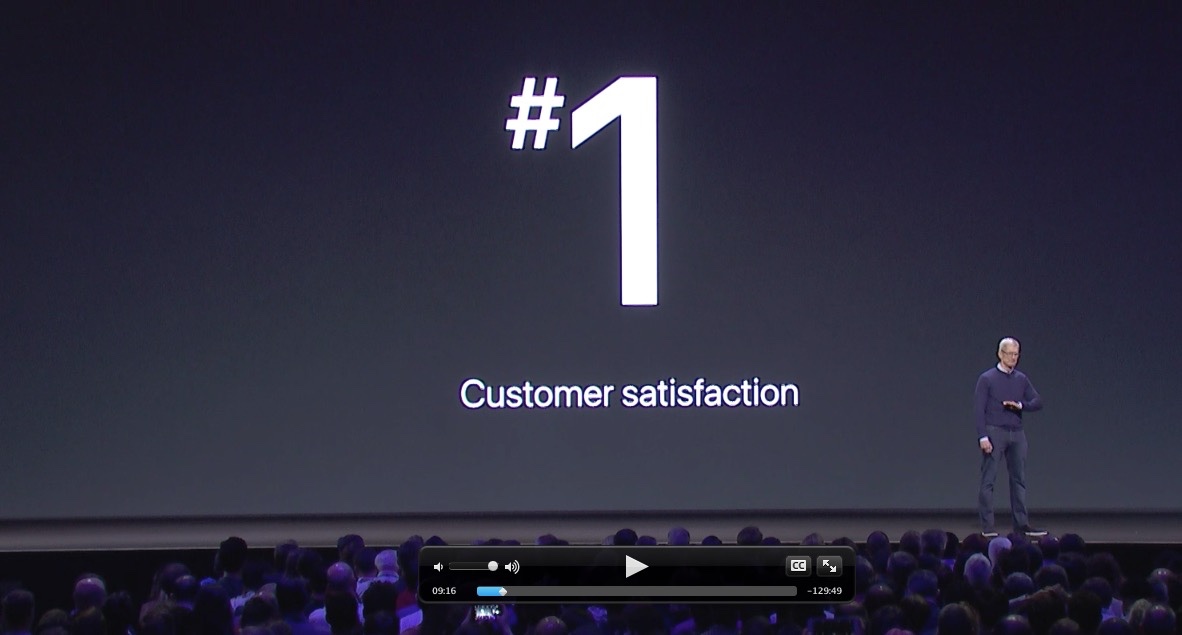 Then they introduced watchOS 4.
New watchface powered by Siri to give you relevant info you need, automatically, and to invoke Siri easily via complication on the upper left. It's intelligent and proactive, using machine learning, much like on iOS.
They also introduced a kaleidoscope face with `trippy' effects. ;-)
They also showed more cartoon characters besides Mickey and Minnie, and they are animated:

Activity notifications are getting personalized to help motivate you to keep moving and increase your fitness goals. There will also be new monthly challenges.
The Workout app is enhanced significantly to be faster and easier to access, and with more capabilities and features. There is a new High Intensity Interval Training workout choice, and the swimming workout tracks your laps better.
Also, watchOS 4 enables 2-way data exchange with gym equipment, for those who work out in a gym. The technology requires NFC readers. Example: data such as incline and speed can be sent from the equipment to your watch, and heart rate can be sent from the watch to the gym equipment. This is supported by 80% of the gym equipment manufacturers. Coming this fall.
The Apple Music app is being updated to automatically get your favorite music on the watch. Navigate through the albums using the digital crown, tap and play easily.
And they also announced the ability to work with Bluetooth-based nearby gadgets for many new functions, including continuous glucose monitoring, or real-time swing analysis for tennis, or a gadget that connects to your surf board for wave analysis (!).

Here is an overview and preview of watchOS 4 on Apple's website.
News about iOS. Customer satisfaction is record-breaking: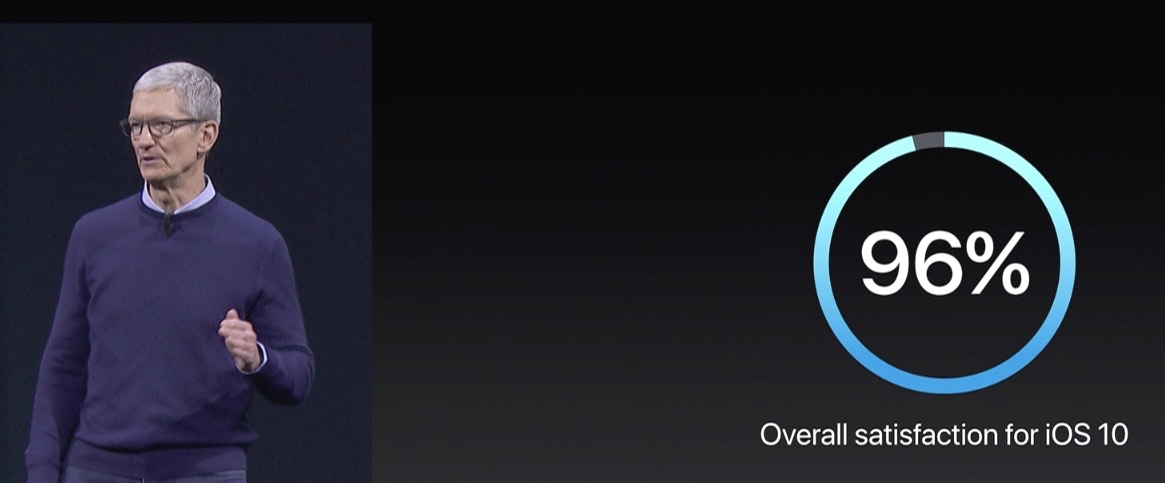 And the install base blows away the competition: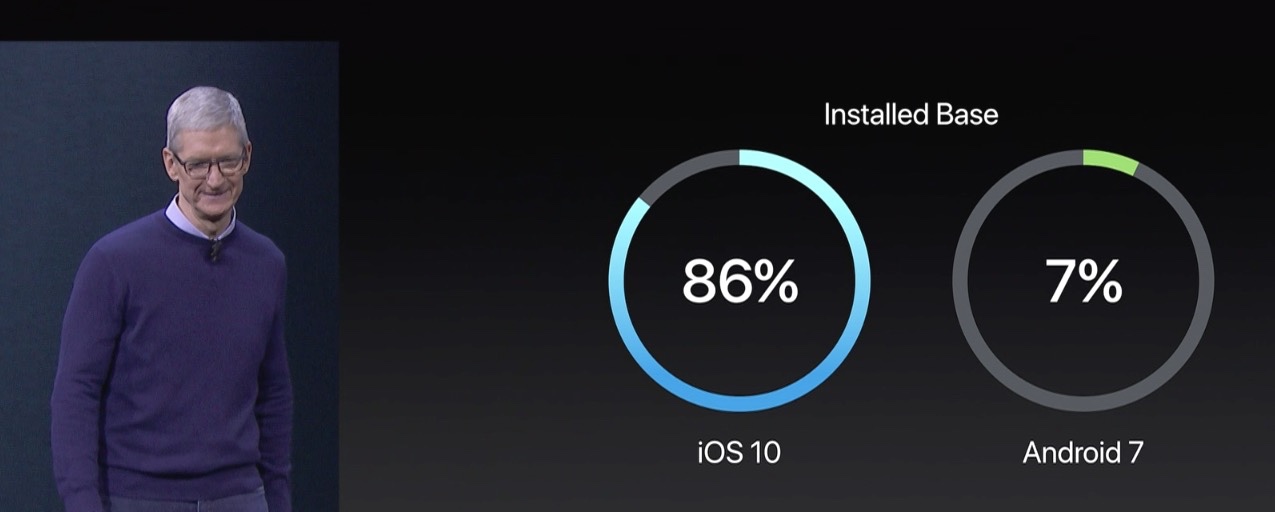 This has tangible consequences: developers and users can target the latest capabilities of the OS and have greater security. Android's fragmentation makes this impossible for 93% of the install base.
With iOS 11, many new features and improvements are coming soon.
The Messages app has been enhanced. Stickers are expanded and easier to access. With iCloud sync, all devices automatically get and delete (!) the conversations your want or don't want, respectively. They remain e2e encrypted.
Apple Pay is the number 1 `contactless' payment method. By the end of 2017, it will be accepted by 50% of ALL retailers in the US.
Apple Pay can be used (till now): via iPhone, via apps on iOS, via the web/Safari. The last frontier: person-to-person. It's integrated into the Messages app: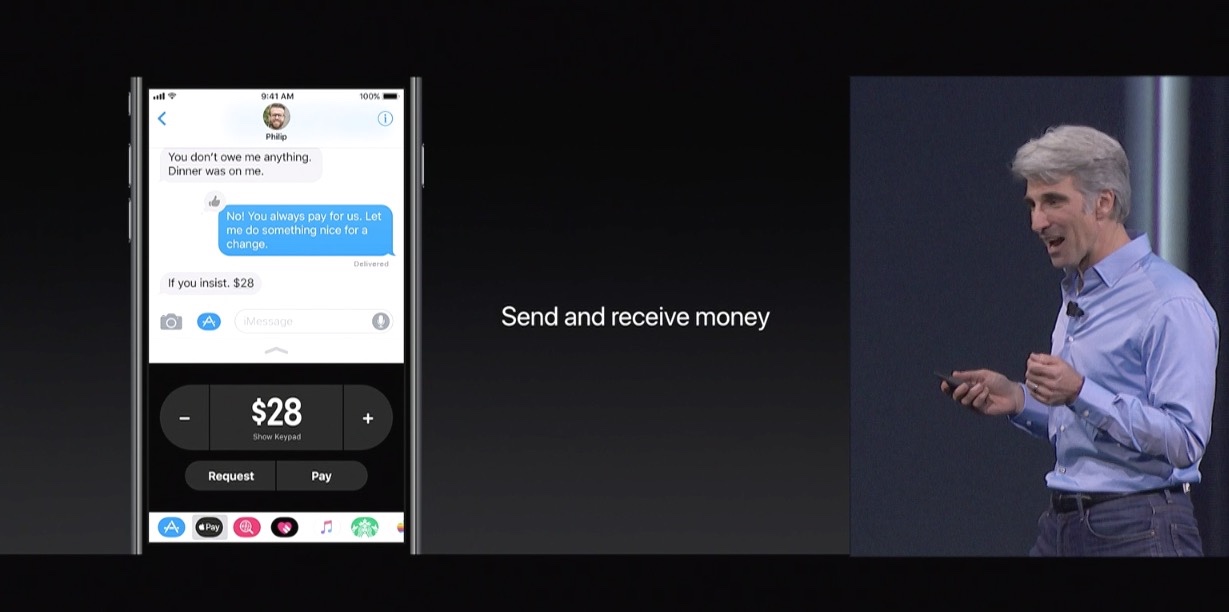 Siri is being used by 375 Million devices, over a course of a month. It is available in 21 languages.
With iOS 11, Siri's voice has used machine learning techniques to make the voice more human-like, with different intonations. There is a new interface and Siri will be able to ask more interactive questions and answers. Also, it offers multiple results to your queries. Finally, it has translation capabilities (beta).
With SiriKit, you can use Siri to carry out actions in 3rd party apps, such as Evernote, Things, WeChat, and so on.

With new intelligence built in, Siri understands context, your voice, and understands what you want next.
Additionally, what Siri learns about you on one device, is synced across all devices, so you deal with your personalized Siri across all your devices. But it is private thanks to e2e encryption.
Camera iOS updates. Today, iOS users take 1 Trillion photos per year. With iOS 10, H.264 is the codec for videos, with iOS 11, it will be HEVC (High Efficiency Video Coding), providing up to 2x better compression. Similar techniques are applied to JPG still images, effectively doubling the storage on the device and in iCloud. Portrait mode has been enhanced significantly.
Control Center has been redesigned and enhanced. It's a single page. Has 3d-touch.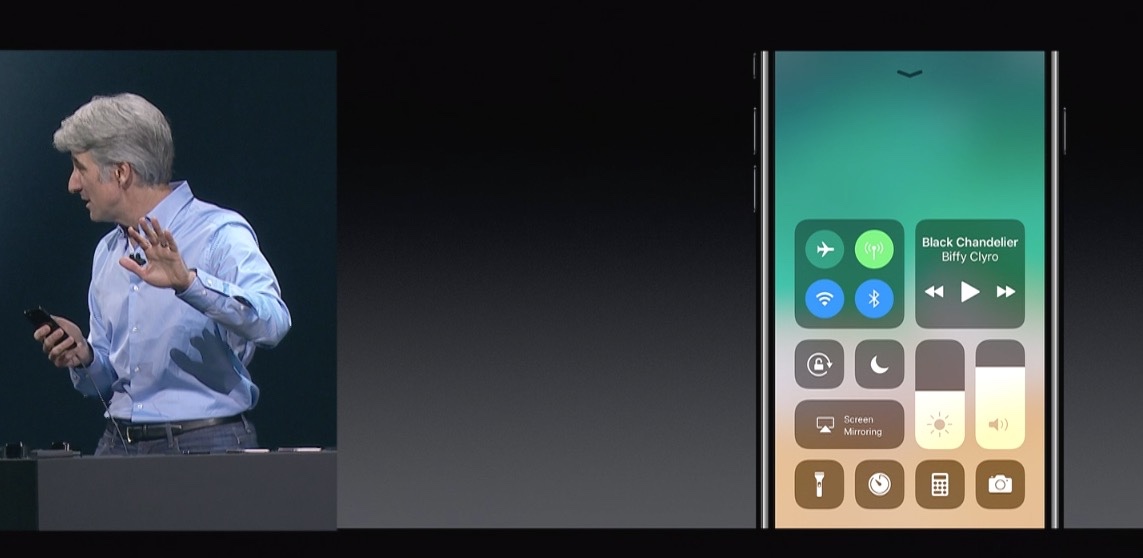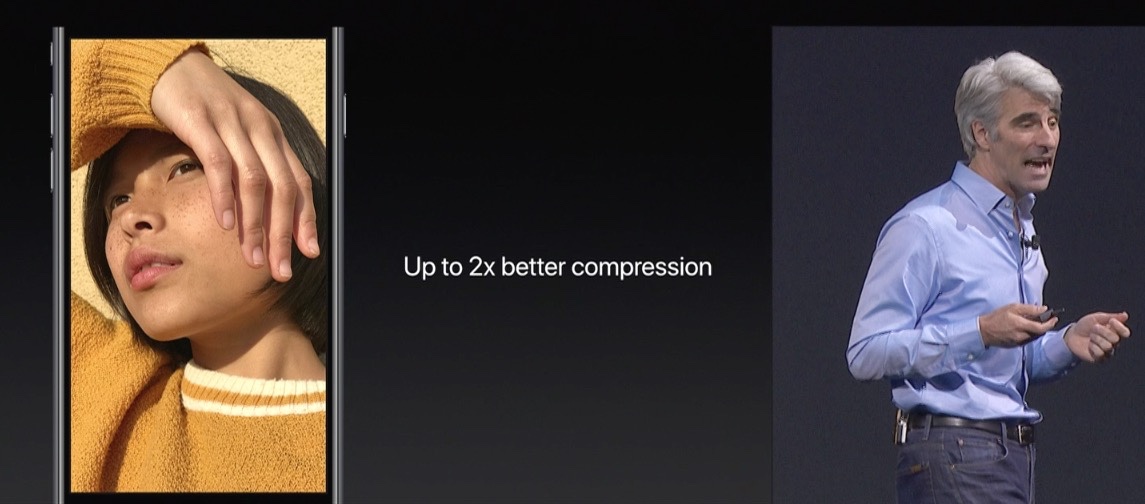 Apple unveiled a new App Store, redesigned to help you find new apps, with tips and information.
There is also a new drag-and-drop feature with iOS 11, reports The Loop.
Apple also announced a new product, the HomePod.
With 6 months till its release, there are many unknowns, but sound is impressive, writes Macworld.
New iPad Pro.
Here is the iPad Pro overview by Apple.
The combination of new hardware (CPU, screen, refresh rate capabilities) with iOS 11 on the iPad create a leap in iPad computing experience. This is a really significant combination.
The new iPad Pro line summarized, by MacDailyNews.
The new 10.5'' iPad Pro provides a new sweet spot in the size options: not quite as large as the 12.9' original pro, but larger than the 9.7' pro.
Apple introduced a new Files app that gives `pro' users access to a filesystem. That's a first after many years of requests.
A review of the new iPad pro by iMore: a Beauty of a Beast.
Should you upgrade? iMore helps you consider the options. Their short answer: `If drawing and speed matter, Apple's new iPad Pro models are worth your money.'
Here is a First Look at iPad Pro 10.5'', showing how professional illustrator Janelle Sing tries it out to recreate images. She concludes: `I love it. It's kind of a game changer. The colors are so much more vivid, they're brighter. And the response time in drawing really is so fast, it's like as soon as the Pencil hits the surface it's fluid and there's zero lag time so it feels like it's flowing.'
Starting today, iPad Pro is available at Apple stores.
They also gave a review of macOS and the new Macs.
Here is a a preview of macOS High Sierra.
New iMacs!
New iMac Pro, coming in December, and new MacBooks.
iOS and Apple news
Messages is enhanced much more than what was presented at the Keynote. Apple is launching Business Chat in iOS 11. `Business Chat allows real customer service representatives to communicate directly with users,' reports Macrumeors.com. Here is Business Chat preview for developers.
with iOS 11, Apple has overhauled the Podcast app, for a richer user experience. It will learn from your preferences and habits.
Apple has introduced new watch bands.
Here are 11 features Apple did not mention that are coming to iOS 11, compiled by CultofMac.
Sprint is offering one free year to switchers, with unlimited data.
You can use Speedometer benchmark to evaluate the capabilities of your combined system (iPad, iPhone, Mac) and the web browser you use. U ser tweeted the score for the new iPad Pro:
I got 158 on my new iPad Pro. Did you have other tabs open? pic.twitter.com/LfQ0A3o8TR

— Mikkel Høgh (@mikl) June 13, 2017
While another said:
After a fresh restart, my 1st gen 12-inch iPad Pro from late 2015 scores a hair shy of 89. 😳😍 https://t.co/N3JjZODUup

— David Chartier 🥃 (@chartier) June 13, 2017
A look at Apple's new campus, by Wired.
privacy & security
With iOS 11, user privacy is even more protected, reports BGR.
iOS apps & widgets
Bear continues to release significant updates at a fast clip. It is one of the best notes apps and a serious competitor to Evernote. Many expect it will overtake Evernote.
Find The Best Replacements for the Missing Apps on iPad, writes iMore.
Bernie recommends GPFinfo, an app he used while flying internationally last month.
Roger H. uses Fing, a network scanner app.
Travel tips
Carefully consider your mobile data usage before you travel internationally. Each provider offers different options and they have been changing a lot recently.
Olga uses Verizon and recently chose to use their TravelPass option for travel to Greece. It was an excellent option. If you use a lot of data, it is probably the best deal offered by any provider. It costs $10/24hrs and lets you use `unlimited data', voice and texts.
In this case, `unlimited' means either the max of your US-based plan (such as, 5GB/month, or whatever you have normally), or unlimited (if you have unlimited in the US). However after 1/2 of GB of use, you get throttled to slow speeds. You might think that using 1/2 GB of data in 24 hours is a very generous ceiling, but it is easier to get to this limit than it would be in the US, probably due to data usage being `additive' as multiple intermediary service providers get involved.
gadgets & accessories
Roger S. just received his Smove smartphone stabilizer. It stabilizes your iPhone for stills and video. It was an indigogo project.
The Mophie Powerstation is an external battery for iPads, iPhones. It can power up to 2 devices simultaneously and has huge battery capacity while being very slender.
Mophie offers several other battery models.
general apps & services
GoWatchIt.com lets you know when and how you can watch a movie. It tracks all the major streaming services (Netflix, Amazon video, HBO Go, Hulu, iTunes, and so on), as well as theaters. You can also add shows in your queue and it will email you when the show is available.
Mountain Duck lets you mount server and cloud storage as a local disk on the Finder app (for Mac) or Windows Explorer (for Windows).