July 2016
WWDC updates
Many news and updates on iOS 10, watchOS 3, MacOS, tvOS.
Apple has posted the entire Keynote online. It's 2 hours long but it's easy to navigate or skip portions.
iOS 10
Apple has a preview page for iOS 10 which will be released this fall.
A long list of new accessibility features in iOS 10, reports 9to5Mac, including a very handy one to magnify small print.
iOS 10 is compatible with iPhone 5 or later, iPad 4th gen or later, iPad mini 2 or later, and iPod Touch 6th gen.
iOS 10 is `coming this fall'. It's reasonable to expect it in mid-late September, based on previous years.
Some key features: Apple has improved the lock screen. Siri is smarter and can now integrate with third-party apps. Computer vision analysis of your photos; if it works well, it will be useful to anyone who takes a lot of photos. Most built-in system apps can now be removed from your device. Third-party VoIP apps will be able to show up on the lock screen when an incoming call arrives (only the native Phone and FaceTime apps can do this in iOS 9). Also, third-party messaging apps can be designated as the default for people , with different defaults for different people.
Apple noted that the most used iOS app is iMessage. A list of new features are coming to iMessage.
iOS 10 hidden new features that are instant game changers, writes Macworld.
Though Siri will be available to 3rd party apps, initially, it will work with just 6 types of apps, points out Macworld.
In iOS 10, the Health app will help you become an organ donor. Apple's announcement highlights the challenge. `On average, one person dies every hour in the United States waiting for an organ transplant because the demand for lifesaving transplants far exceeds the available supply of organs - and one donor can save as many as eight lives,' said David Fleming, President & CEO of Donate Life America. `By working with Apple to bring the National Donate Life Registry to the Health app on iPhone, we're making it easier for people to find out about organ, eye and tissue donation and quickly register. This is a huge step forward that will ultimately help save lives.'
In an interview with the AP, Tim Cook talked about Steve Jobs and his wait to receive a liver. `Watching and seeing him every day, waiting and not knowing - it stuck with me and left an impression that I'll never forget,' Cook said. Cook was so concerned that he offered to donate part of his own liver, although Jobs refused.
Mac
`Mac OS X' is no more: the new name is `macOS'. It is spelled as one word and with a lower case `m'. Many reports have gotten this wrong. The next release will be Sierra (upgrading from El Capitan).
Lots of new features were announced for Sierra. The top 5 new features, an overview by Digital Trends. Universal Clipboard (across your devices), Siri on the Mac, unlock your Mac via Apple Watch, livelier iMessage, improved Photos app.
watchOS 3
WatchOS 3 is a significant upgrade. Apple showcased major performance improvements with background refresh, favorite apps in memory, and instant launch. Also a significant redesign of the UI, with a dock (glances go away), with fewer steps to reply to messages, and with the new Scribbles. Several new watch faces, including a greater focus on activity rings.
There is also a new emergency call you can make from your watch. Additionally, after the call, the watch will also automatically send a message to your emergency contact(s) with your location, and the watch will then show your medical ID, such as allergies, and so on. This works internationally, even if you are traveling and do not know what the emergency number, your watch knows.
The activity app is significantly expanded with sharing info and stats. There is also a new watch face for those who want to focus on it. The optional data sharing feature allows users to comment on each other's activity as a way to motivate each other.
There is also a new app for watchOS called Breathe to guide you through deep breathing to improve daily health and relaxation.
Additionally, Apple showed how they have improved and customized the activity app specifically for wheelchair users, adapting motion detection to the unique movement patterns and needs of those who use a wheelchair.
For Mac users, the watch will provide authentication, so they can bypass having to type in a password to log into their Mac.
Here's an overview of several new features coming with watchOS 3, by Macworld.
A beta tester for Watch OS 3 reports great impressions.
other iOS and Apple news
Apple addresses developers: Search Ads are going to be available soon.
Roger points us to How the iPad frees musicians from sheet music.
iOS apps & widgets
Liquidtext is an app that aims to improve the way you read, highlight, and reference text in documents, while using your iPad. Apple selected it as the most innovative app for iPads in 2015. It is especially good if you are doing some research and even better on a larger screen of an iPad pro. It has a nice list of features. The app is free. Mashable calls it the best iPad app for taking notes on documents. Here is an overview:
Prisma is a very enjoyable app that lets you transform a photo into artwork in the style of famous artists. Choose from Vang Gogh, Picasso, Kandinsky and others. The app is free.
Here are examples of photos, with dogs Chloe and Kaya: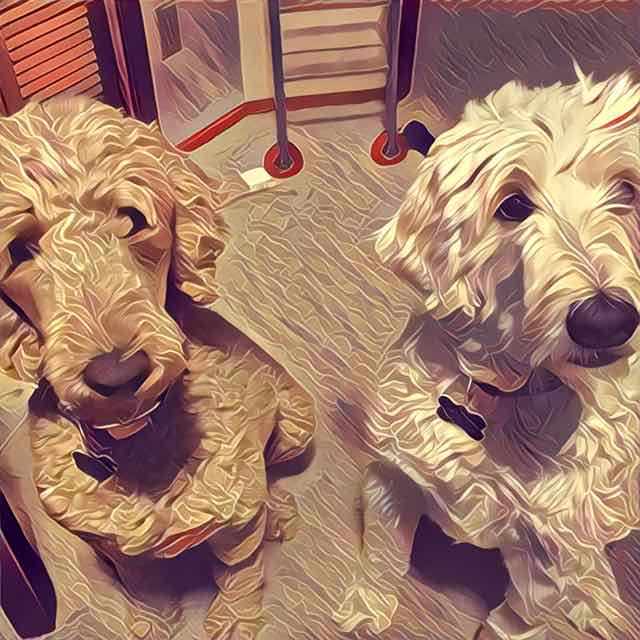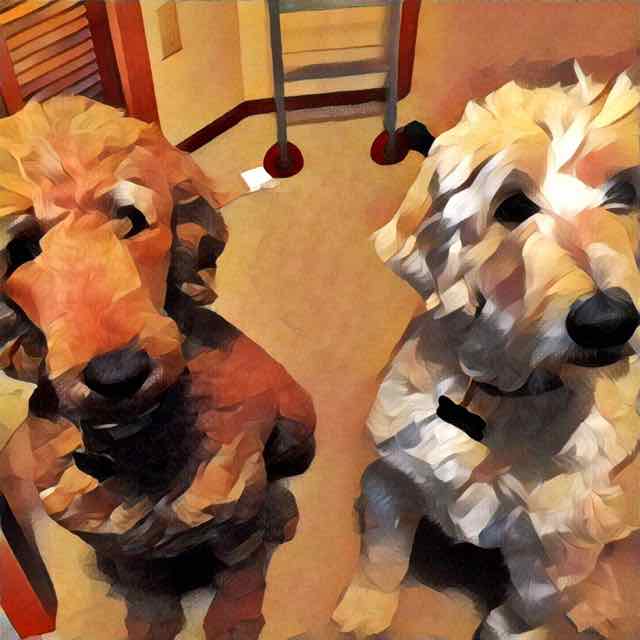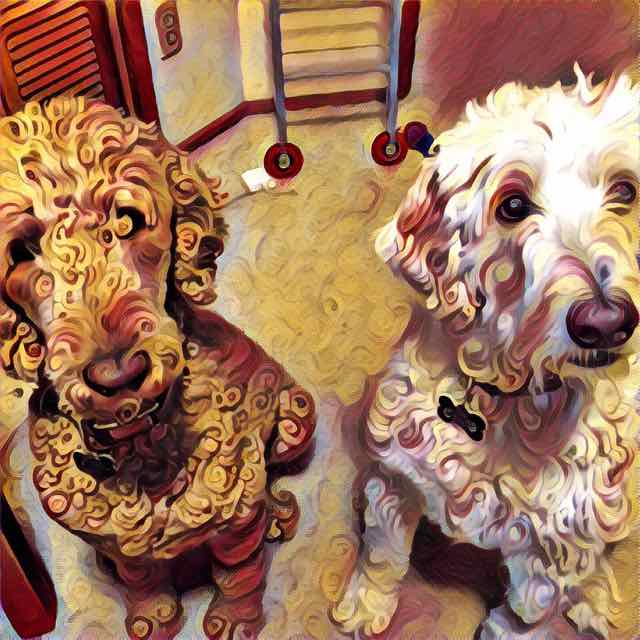 Typorama is a wonderful app that lets you create beautiful, professional-looking designs and graphics on your hone or iPad. It has beautiful typography, photography and other tools. It' very easy to use. It's a great choice for creating a personalized note, an e-card to email or text or post on social media, or create a wallpaper. One of the best of its kind. Read a short review of Typorama, by Creative Blog.
Here is a quick example of adding text to a snapshot, after using the app's easy crop tool to create iPhone-6 wallpaper dimensions.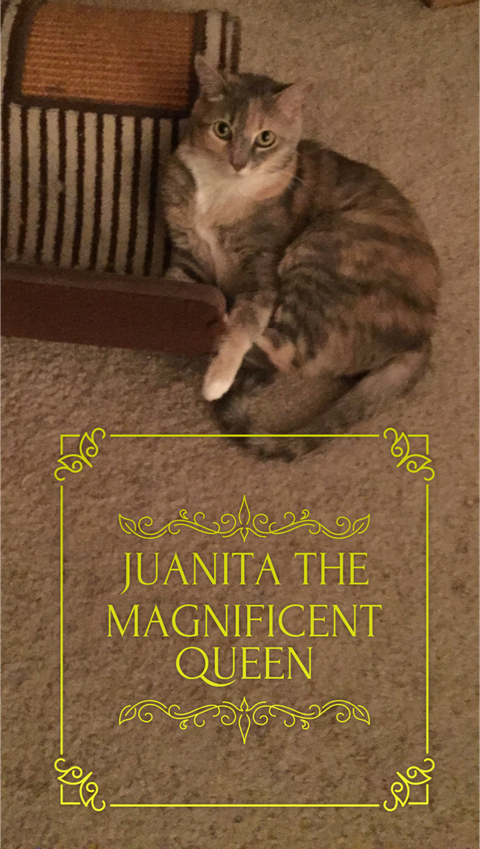 Here is an example that combines a few apps to create a lock screen: start with a photo, use Prisma to turn it into a painting, then use Typorama to crop it to the iPhone 6 Plus screen proportions and add the text: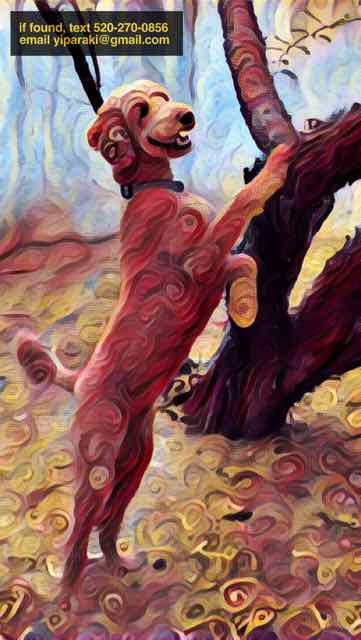 If Found Lock Screen is an app that can be useful to anyone with an iPhone or an iPad. It lets you create a lock screen that includes text of your choice to help a person who finds your lost device. An honest person will want to return your device but may be unable to figure out how to contact you. This solves the problem easily. Of course you can create your own lock screen using a photo editing tools as well. But this app makes it easy with just one step.
Netflix for iPad just got Picture-in-Picture support. Very nice!
Patterning `As beautiful as it is powerful, Patterning is a deep and flexible drum machine unlike any you've encountered before. With its elegant circular interface, Patterning transforms the iPad into a seriously inspiring tool for making beats.' Runner up for best of 2015. Take a look:
Just Press Record claims to be the easiest way to record audio on a Mac, an iPhone, an iPad, or on a Watch. And with iCloud syncing, you get your recordings on all your devices. Read a review of this app by Mac360.
Pennies is an iPhone and iPad app for your personal finances. It's extremely easy to use and lets you set up budgets to track your spending. Has an optional Watch app. Read a review by Macworld.
Unfade is a clever app: for those who have older and faded photos from many years ago, there is a quick fix. Snap a photo with your iPhone and let Unfade fix the faded colors for you in a few seconds.
Scanbot is a `scanning' app for documents. There are many of these apps, of course, but this is a good one. It has very high ratings from users. Snap a photo of a document and let the app quickly clean it up for you (automatically). You can share it via Dropbox, iCloud, Box, Evernote, Slack, and other services. Has been rated as one of the best in 2014 and 2015. It's free to try and has in-app purchases for pro features.
BusyCal has just been released for iOS. It syncs wirelessly with our iCloud data, so there is no need to do anything and no duplication. It is a more
Streaks is a To-Do app that helps you establish good habits. It was chosen as one of the best apps of 2015 by Apple's App store. It has an optional Watch app. The user reviews on iTunes are glowing.
Roger told us about Proud. It's a To-Do and productivity app. It is more than a simple to-do manager. The app claims to enable users to manage their time better, organize projects and also find more time to relax. Its ultimate goal is to help you build better habits. It also has a Watch companion app.
Sworkit is an app that gives you customized workouts on your iPhone or iPad without the need of a gym. It's free but with additional optional monthly subscription for a few dollars. You can customize your areas of focus (such as flexibility or weight loss or strength training) and you can choose the duration of your workouts.
Inks is a game that just got a design award. It's a pinball with paint. `It combines the joy of pinball with skillful puzzles, and allows you to create wondrous works of art as the ball smashes around the canvas. Blocks of color burst like beautiful fireworks across the surface, building up in vivid layers and recording a visual history of your gameplay as you perfect your score.' It has very high ratings and costs $2.
BitCam is a fun camera app for your iPhone or iPad. It creates images that are pixelated, black and white. Like the old days. Nostalgia is hip again.
Number Guru is a free app that lets you type in a phone number and gives you their likelihood that it is spam or telemarketing, based on other user feedback. It works well, but the downside is that you have to type the phone number into the app. The app is free and is also available as a web-service.
Today is a habit-tracking app. It lets you create a custom dashboard for each of the habits you want to track, combining data from an expanding variety of cards (templates), to give you quantitative information about your habits so you can develop insights.
Today: Quantified-self habit tracker for iPhone from Neybox Interactive on Vimeo.
Waterbug helps you remember when to water your plants. This may be good not only for your own plants but also if you have a house-sitters or a caretaker while you travel. It costs $2.
OneFootball is a free soccer app with an Apple Watch companion.
Dots and Boxes game is old school fun without paper & pencil, writes Appadvice.
tips & tricks
What to do If your iPhone or iPad gets stolen. Lessons learned by iMore.
This is an important tip for those who have smart devices in their homes. If you have a dual band WiFi router (such as an Airport Extreme), you might need to set up a WiFi network that is separate for 2.4GHz and for 5GHz. Here is how to do it.
How to add widgets to your Today view. Remember that many of your apps probably have widget versions (for free), and these can be very handy. Olga uses PCalcLite to place an easy calculator in iPad's Today screen.
gadgets & accessories
A smart idea, designed by ex-Apple engineers: Rear Vision is a camera for seeing behind your car to help you back up and views all obstacles that may be be behind you. It's easy to install, it has the shape of a frame around your license plate and it's solar powered, so there are no wires to install.
A tiny gadget but a nice idea: for those times when you are using your Apple Pencil but the 3rd party app is not compatible: Buddy Stylus works great.
A clever sleeve for Apple pencil, or for any stylus. It goes with your iPad.
Canary security system has announced that they will bring support for Apple's HomeKit in their next generation product, Canary Plus, later this year, and a private way to monitor the home.
Roger uses this PageFlip device to flip music sheet pages. The PageFlip Firefly is a wireless Bluetooth/USB pedal can be used by musicians and people with disabilities are looking for easy page turning.
An iPhone pouch that is clear and waterproof. It's not a case, it's a special clear bag that you can use when you are by a pool or at the beach, or traveling, or anywhere there is risk of water damage. Inexpensive and practical.
Pay
The ultimate guide on how to use Apple Pay, by iMore.
privacy & security
Apple announced that with iOS 10, machine learning will be possible without compromising privacy. Macworld gives an idea of the approach. The main goal is to enable machine learning via pattern detection. This helps with photo recognition of faces, improved spellcheck corrections, quick and relevant suggestions of emoji in text messages, and other smart features. However, Google and others whose algorithms run on servers and may compromise your privacy, Apple aims to protect users. Apple's implementation uses `differential privacy', a technique that adds noise to the data in order to protect your identity.
For those who want to read more about this, here is a write-up on differential privacy, by a security researcher, and here is the original research paper on Differential Privacy.
The hacker involved in `Celebgate' has pleaded guilty and faces 5 years in prison, writes The Verge. Recall that this is the guy who accessed more than 300 personal Gmail and iCloud accounts, and got private photos and videos from targets including celebrities. It's important to recall that this was not a Google nor Apple security breach; rather, the hacker used phishing techniques to guess passwords. Another reminder to use unguessable passwords. For example, your birthday and your street address are poor choices for passwords.
10 Million Android users got hacked by Chinese malware, reports CNET. The Android phones got infected by visiting certain websites. `The first component attempts to gain root access on a device with rootkit [software] that exploits multiple vulnerabilities. If successful, attackers gain full access to a device. If rooting fails, a second component uses a fake system update notification, tricking users into granting HummingBad system-level permissions.' It's worth noting that a similar attack was made on iPhones a couple of years ago, but this was fixed with iOS 9 in 2015.
general news and crossover
Evernote is changing their plans: Basic (free), Plus, and Premium.
Tech writer Katie Floyd says she is not too happy about the changes and may downgrade from Premium to a lower tier.
An article on how to get out of early termination fees from your cellphone provider.
general apps & services
Nomorobo aims to stop annoying robocalls that interrupt your dinner with spam, offers and other unwanted topics. Pricing is free for VoIP landlines, and $5/month for iPhones and Androids. Here is an overview:
25 incredibly useful and free websites, a list compiled by fastCompany.