August 2018
iOS & Apple news
A lot of publicity was given to Apple reaching a trillion dollar capitalization, but Tim Cook sent a memo to employees saying that it's a milestone but not Apple's focus, reports Reuters. He wrote:
`Steve founded Apple on the belief that the power of human creativity can solve even the biggest challenges — and that the people who are crazy enough to think they can change the world are the ones who do.'
Here is the whole email Tim Cook sent to Apple employees.
Tim Cook was interviewed about Apple Music and Spotify, reports Macrumors. He said, `Apple worries about streaming music losing the human touch, alluding to Spotify's more algorithmic approach to highlighting content.' Cook talked about human curation of playlists, not bits and bytes. The report continues, `Despite launching just three years ago, Apple Music has 50 million paid subscribers and free trial members, with the company slowly catching up to Spotify. At last count, Spotify said that it had 83 million paid subscribers around the world.'
Tim Cook explained why Apple is going to make original shows, reports CNBC. `The cord cutting in our view is only going to accelerate and probably accelerate at a much faster rate than is widely thought,' he said. Recall that Apple announced that Oprah Winfrey will create `original programs that embrace her incomparable ability to connect with audiences around the world', according to a statement by Apple.
Apple Developing New TV Show Based on Bestselling Novel 'Pachinko', reports MacRumors. Pachinko is a National Book Award finalist that chronicles the lives of four generations of a poor Korean immigrant family as they migrate to and establish a life in Japan.
Apple celebrated World Emoji Day by unveiling new emoji. More than 70 new emoji characters are coming to iPhone, iPad, Apple Watch and Mac later this year in a free software update
Apple has been offering updates of iOS 12 to anyone who wants to be a beta tester. Here is a preview of iOS 12, by MacRumors:
In fact, Macrumors has put together a dedicated page to provide an iOS 12 overview. An excellent reference.
Apple's Upcoming 6.5-Inch OLED 'iPhone X Plus' to Support iPad-Style Landscape Mode, reports MacRumors.
Books (formerly iBooks) is getting redesigned for iOS 12. It is a Love Letter to Readers, reports MacStories. They write:
`When iOS 12 launches this fall, it will introduce a newly redesigned iBooks app simply named Books. Though the reading experience in Books is largely the same as before, the rest of the app is drastically different, offering the biggest app redesign on iOS since last year's App Store. Modern design is a clear centerpiece of Books, but the app also includes new features, big and small, that make it feel all-new. From tools that borrow from Goodreads, to more robust collections, to dark mode, and much more.'
A study by LoupVentures showed Siri improvements and compared Siri to Alexa and Google Assistant.
Apple has joined The Thread Group, reports 9to5mac. `Thread is described as a new mesh network standard that aims to make it easier for varying smart home technologies to work together. Thread is designed to support devices ranging from appliances, climate control, and lighting to security, access control, and more.'
[ RUMORS ] It's August, which means new iPhone rumors are on the rise! ZDNet has collected all the rumors and writes about the ones they sort-of believe.
[ RUMORS ] Since it's August, more iPhone leaks are reported (presumably from Apple's supply chain), showing 3 iPhone sizes.
[ RUMORS ] People who look inside iOS 12 beta code, have found an Icon Depicting Design of Upcoming iPad Pro Models, reports MacRumors.
[ RUMORS ] For a roundup of all of the main rumors or expectations, MacRumors provides an overview.
Mazda to begin offering CarPlay in September.
Mimeo Photos Releases Themes, Book Sizes, and Templates 'Identical' to Apple Photo Books as Apple's Service Ends, reports MacRumors.
Apple was granted 2 major patents for Apple Pencil and iPad Pro. A very nice overview by Patently Apple.
Using an iPhone, you can order Beer and water, by text to your seat at Citizens Bank Park, reports the Philadelphia Inquirer. This new service is being tested. Take a look at the concept:
At the historic downtown L.A. Tower Theatre, Apple plans a store and event space unlike any other, report the LA Times. `The Tower Theatre was the place in 1927 where Angelenos first heard the wonder of `talkie' movies when it hosted the premiere of The Jazz Singer, starring Al Jolson. Now, the aging former movie palace in the Broadway Theater District will host a more modern wonder — an Apple store the tech giant says will be one of the world's most prominent.'
photography
The 11th Annual iPhone Photography Award Winners have been announced.
iOS apps & widgets
Got an old iPad? Framee lets you turn your old iPad into a photo frame for $2 / year. `It works like this: You install the app on both your phone and your tablet. (This can be a relative's tablet, too -- a nice option if you want to share photos with, say, tablet-owning grandparents.) The phone supplies the photos: Just select one from within the Framee app and presto, it gets delivered to the tablet. Bam. Done' reports CNET.
Enjoy 25 Gorgeous New MacOS Mojave Wallpapers, writes OSXDaily.
Lee and Petra told us about Visited, a free app that lets you mark what areas of the world you have visited.
Petra also recommended Rick Steves' Audio Europe Travel app.
Five iOS apps worth checking out, reports MacRumors. Take a look:
Affinity released Designer for iPad. It's a professional-level app that rivals desktop apps for designers.
Hole Down is a fun game for iOS.
tips & tricks
If you are getting a telemarketer calls on your iPhone, remember that you can block them (after the fact). Look in your Recents list that displays recent incoming calls, Tap the small `i' button, and choose block this caller.' It's also a good idea to delete the number from your Recents, so you do not accidentally tap it and initiate a call.
If you are considering buying or selling gently used devices, a good place to look at is Swappa.com. If you are considering getting new iOS devices in the fall (expected in late September), take a look at Swappa in order to prepare. Their FAQ section provides some good info.
Here is How to Turn on an LED notification light on your iPhone , instructions by iMore. It's an option in Accessibility. This way, you'll receive an LED flash alert when the ringer switch is set to silent.
gadgets & accessories
We have seen many high-tech speakers. Here is a very low-tech and simple approach: an iPhone passive, wooden speaker that serves as a stand.
Often, parents want to track where their kids are but an iPhone seems to be too much. Relay is a small gadget that fits the bill. Replay can also speak to a parent's Phone.
Logitech has unveiled `Powered', an iPhone stand and wireless charging station, designed with Apple. See some photos with the iPhone in portrait and landscape orientation, reported by MacRumors.
The new , reviewed by 9to5mac, shows it's a small and fast flash external drive suitable even for 4K video. Take a look:
Petra told us about her brand new Honda which has integrated CarPlay.
HomePod Estimated to Have 3 Million Sales and 6% Market Share in United States, reports MacRumors.
Pay
eBay will accept Apple Pay and will also offer merchant loans with Square, reports Bloomberg.
Consumer Reports finds Apple Pay to be the best P2P payment platform.
Apple Pay is available at nearly 16,000 Cardless Chase ATMs.
watch
Apple Watch saved a man's life in Australia. `The 24-year-old told 9NEWS he knew something was up when he started getting notifications from the health app on his Apple Watch which monitors your heart rate.'
How my apple Watch Helped me Through Another Health Crisis, writes Chuck La Tournous. `In case you haven't read it, here's the short version: In May 2016, my body decided to suddenly surprise me with multiple blood clots. They blocked some pretty important arteries in my heart and lungs, which led me to almost . . . what's the technical term? Oh right: Die.' (A humorous read and with a very happy outcome.)
Analyst Canalys estimates that Apple Shipped 3.5M Watches in Q2 2018, 30% More Than Last Year.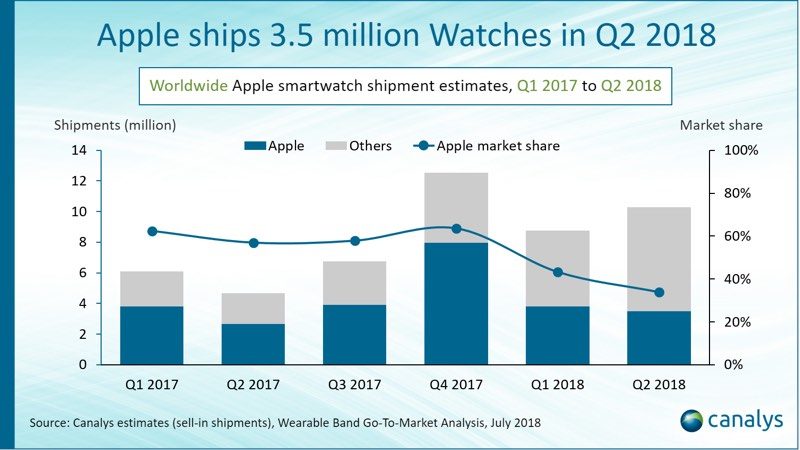 How to make a FaceTime (Audio) call on your Apple Watch.
Tomorrow (August 8) is National Fitness Day in China. Apple Watch offers a challenge to commemorate the day and let those in China win a badge and iMore provides ideas for how to meet the challenge.
privacy & security
Deployed US military personnel must disable geolocation on phones, watches and more , reports 9to5mac. `The move was made in response to a serious security risk identified in January, when publicly available Strava data was found to reveal both the locations and layouts of US military bases in countries like Syria and Afghanistan'.
In July, the U.S. House Committee on Energy and Commerce sent a letter to Apple inquiring about specific iPhone data usage practices. Apple officially responded to that letter, explaining in detail its commitment to privacy, reports 9to5mac. `The Customer is Not our Product',