Saturday night, 36 hours after we left Tucson, nine hundred miles round trip, and a second dog later, we arrived back home and crashed.
The girls promptly claimed their seats on the couch. They let us find spots on the carpet to watch a movie before bedtime.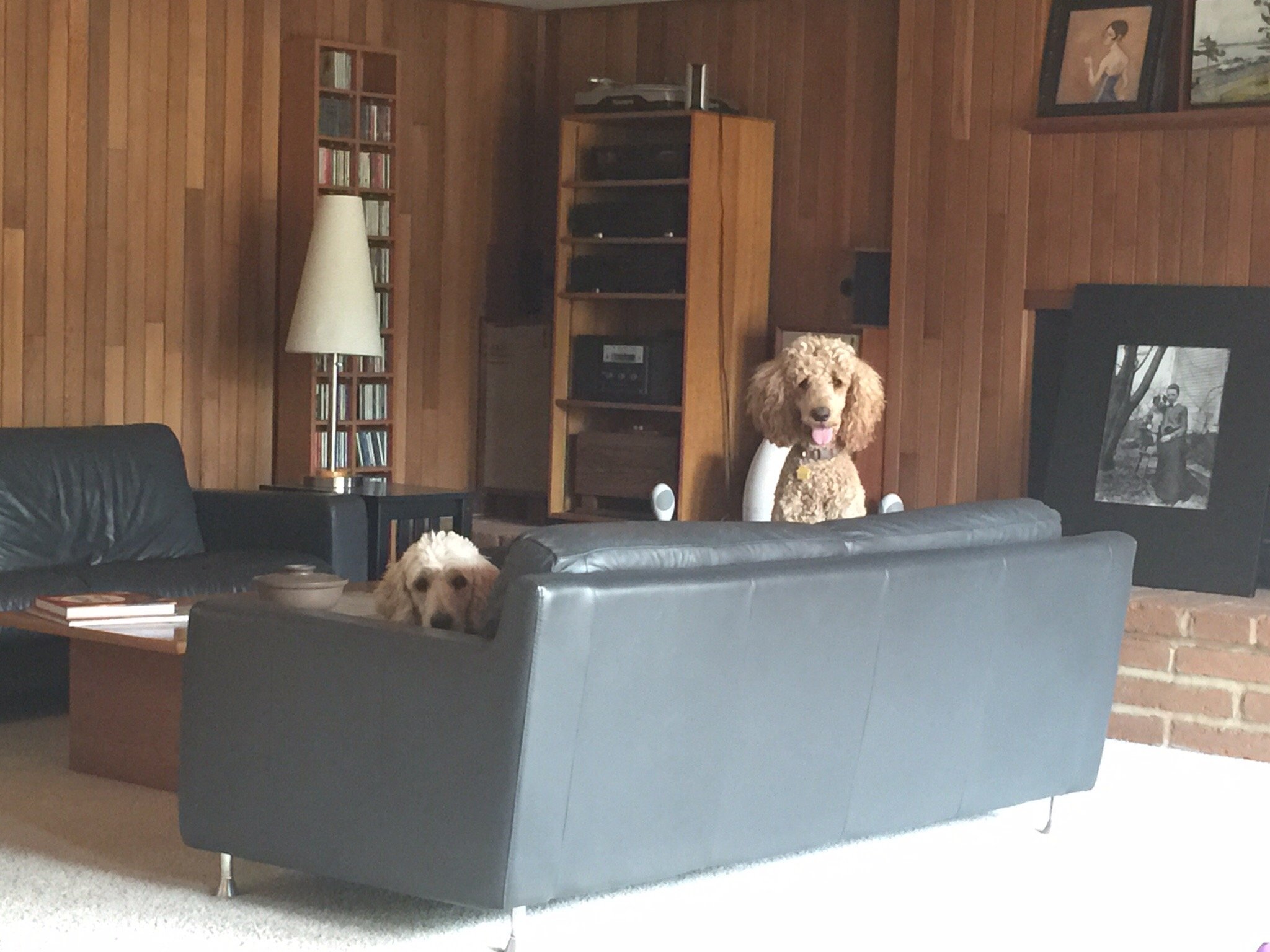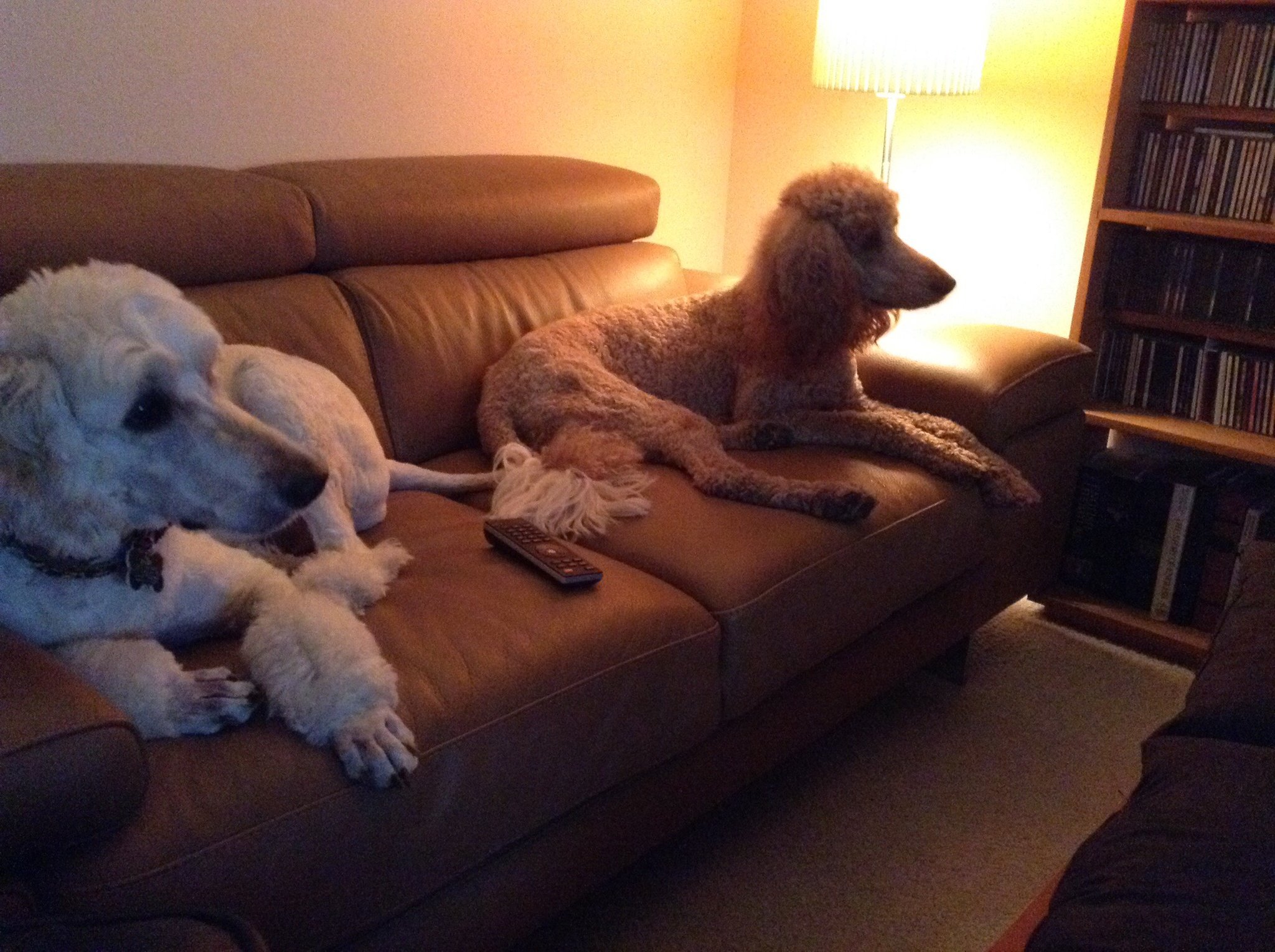 Every so often, I'd look at
Petfinder.com
, thinking it would be nice to find a sister for Chloe.
The next morning it was clear that Kaya knew she is home.
I instantly felt a connection when I saw Kaya's profile. How could anyone let this sweet girl go? But then again, 3 years ago I felt the same about Chloe when I saw her profile. I applied immediately but was second in line for Kaya. As luck would have it, the other family decided not to adopt, and soon I found myself making travel plans to go meet Kaya.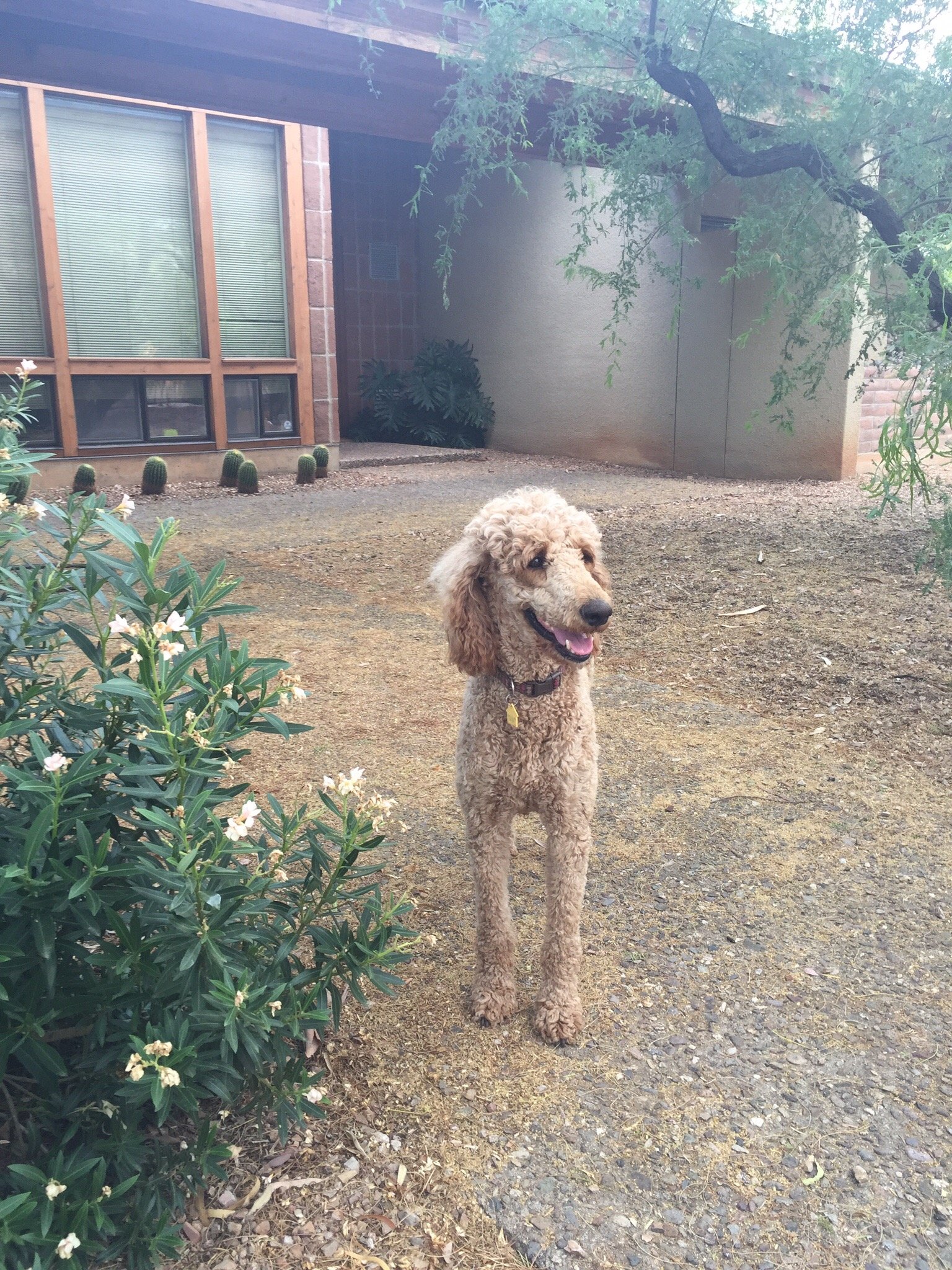 Bernie, Chloe and I jumped in the car on a sunny Friday morning in June, headed to Temecula, CA. A six-and-a-half hour drive from Tucson, plus stops along the way.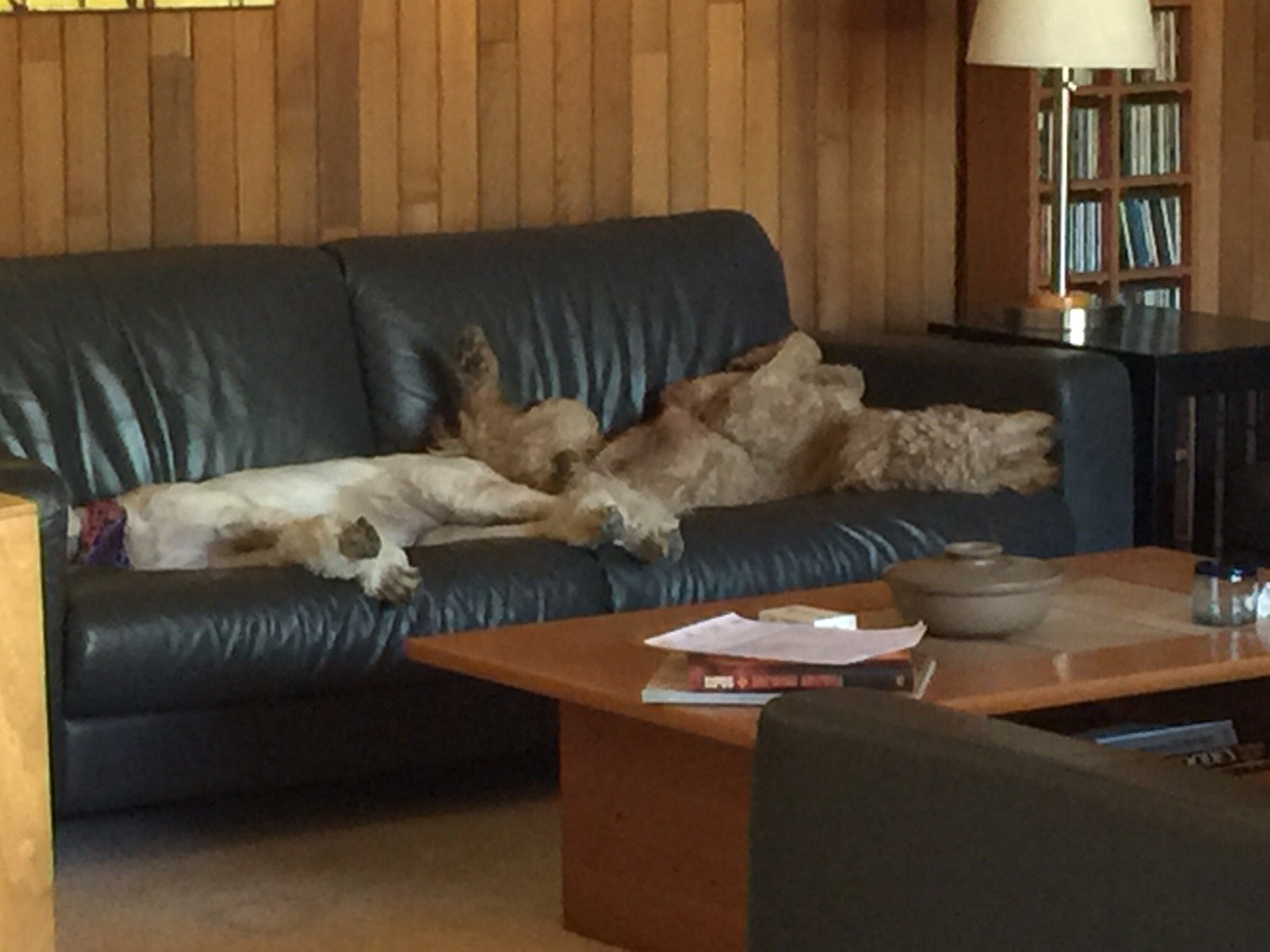 As we got close to Temecula, we ran into traffic. Are we there yet?! I felt anxious to meet Kaya. I texted Lorie, the wonderful foster mom, that we were 30 mins away. She texted back with a photo of Kaya, as they waited for us at Temecula Duck pond:
Chloe and Kaya are like twins from different mothers.
Awwww.... Look at that smile....
Assuming Chloe and Kaya got along, our plan was to spend Friday night at a hotel to test everything out more, and decide on Saturday morning whether to adopt Kaya.
Well, it was instant love between Chloe and Kaya when they met at the park. As if they'd known each other all along. Lorie handed me the leash and off we went, two dogs and two humans to check into our hotel.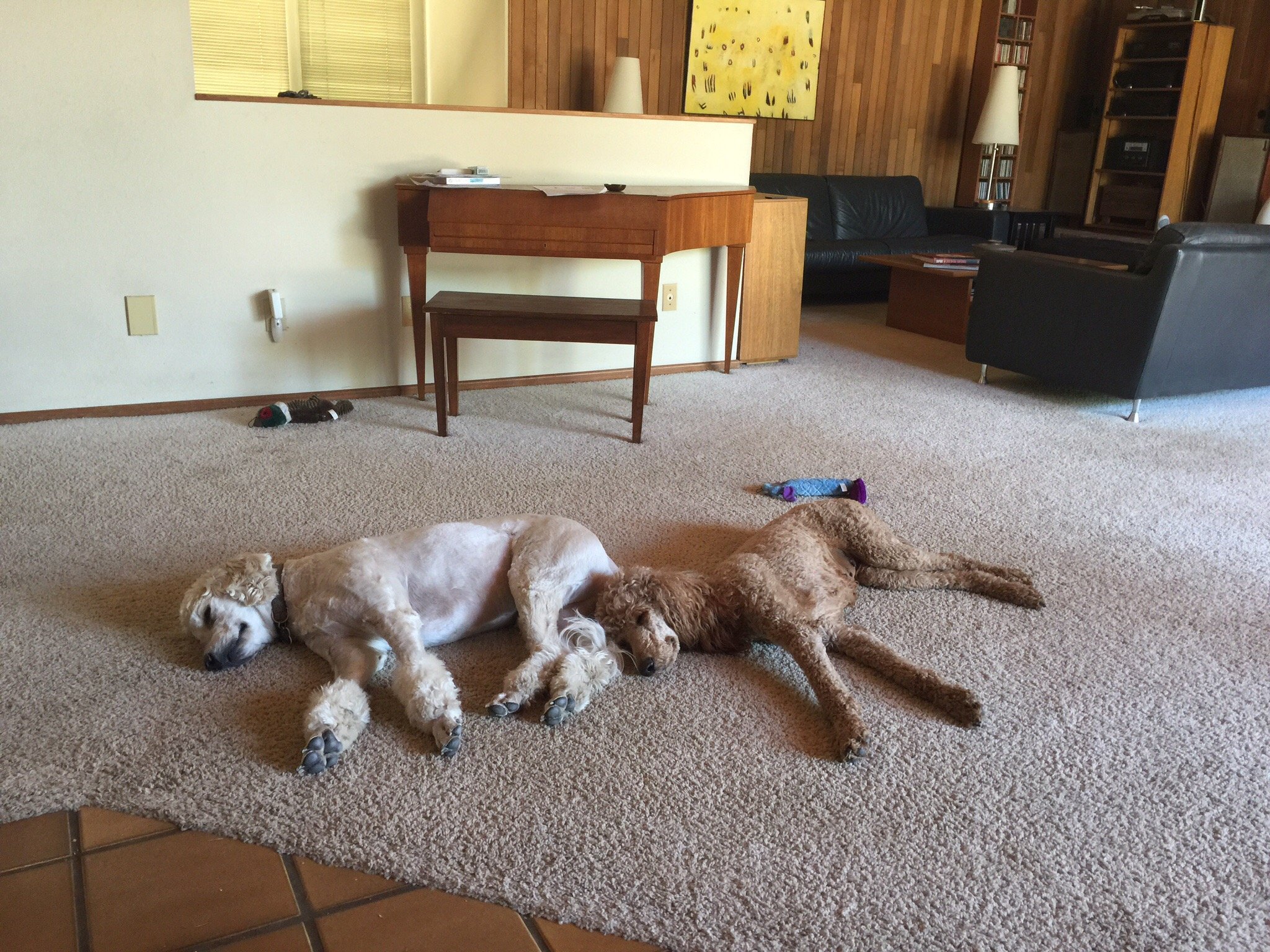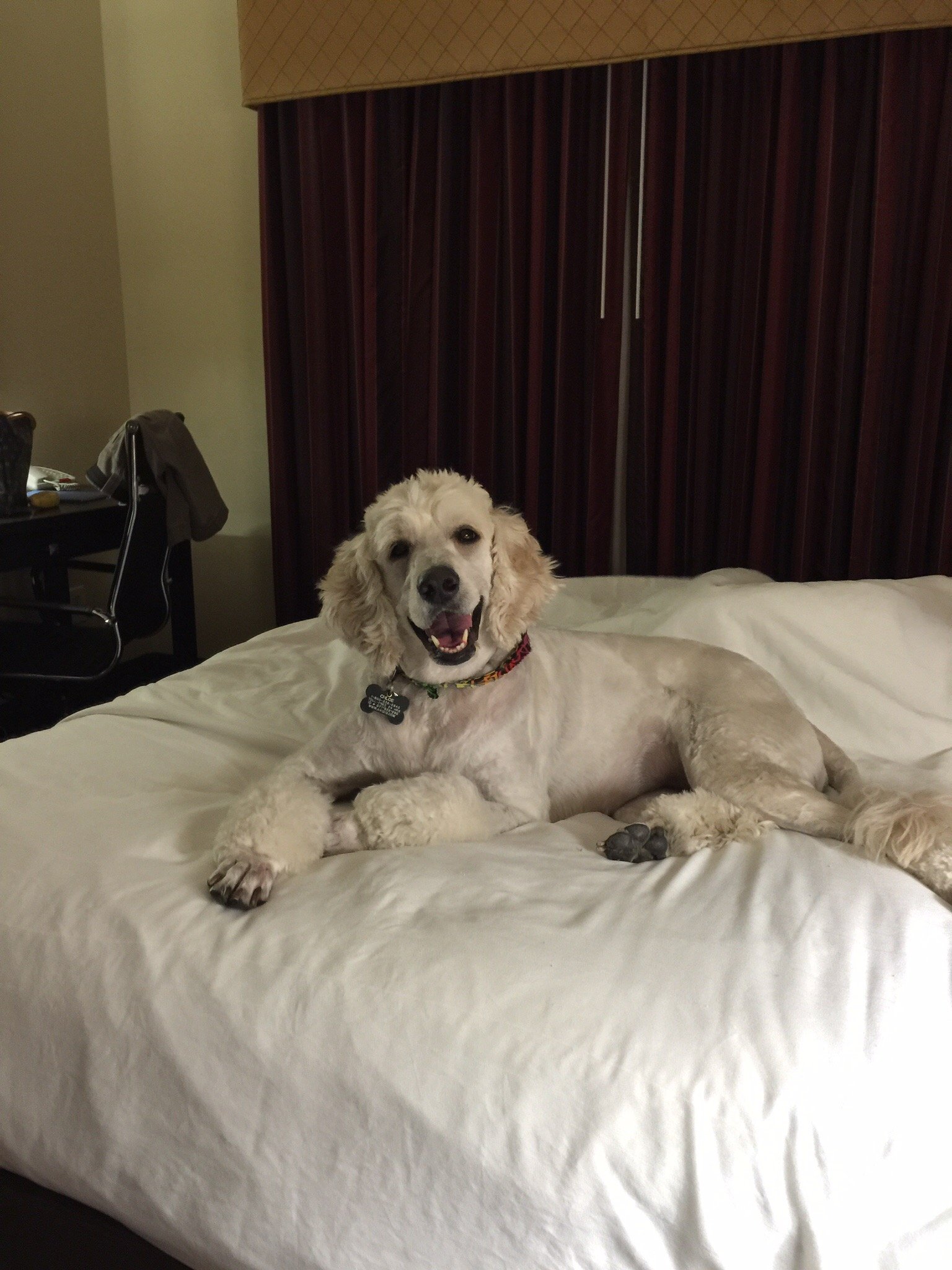 Dogs, like children, open up a hidden space of imagination and possibilities and play. The joy is to see life through their eyes and rediscover the world anew.
We cooked together and made a cake to celebrate. The girls told me I don't feed them enough, though. Sad faces, hungry dogs, they tell me. Yes, they are sisters.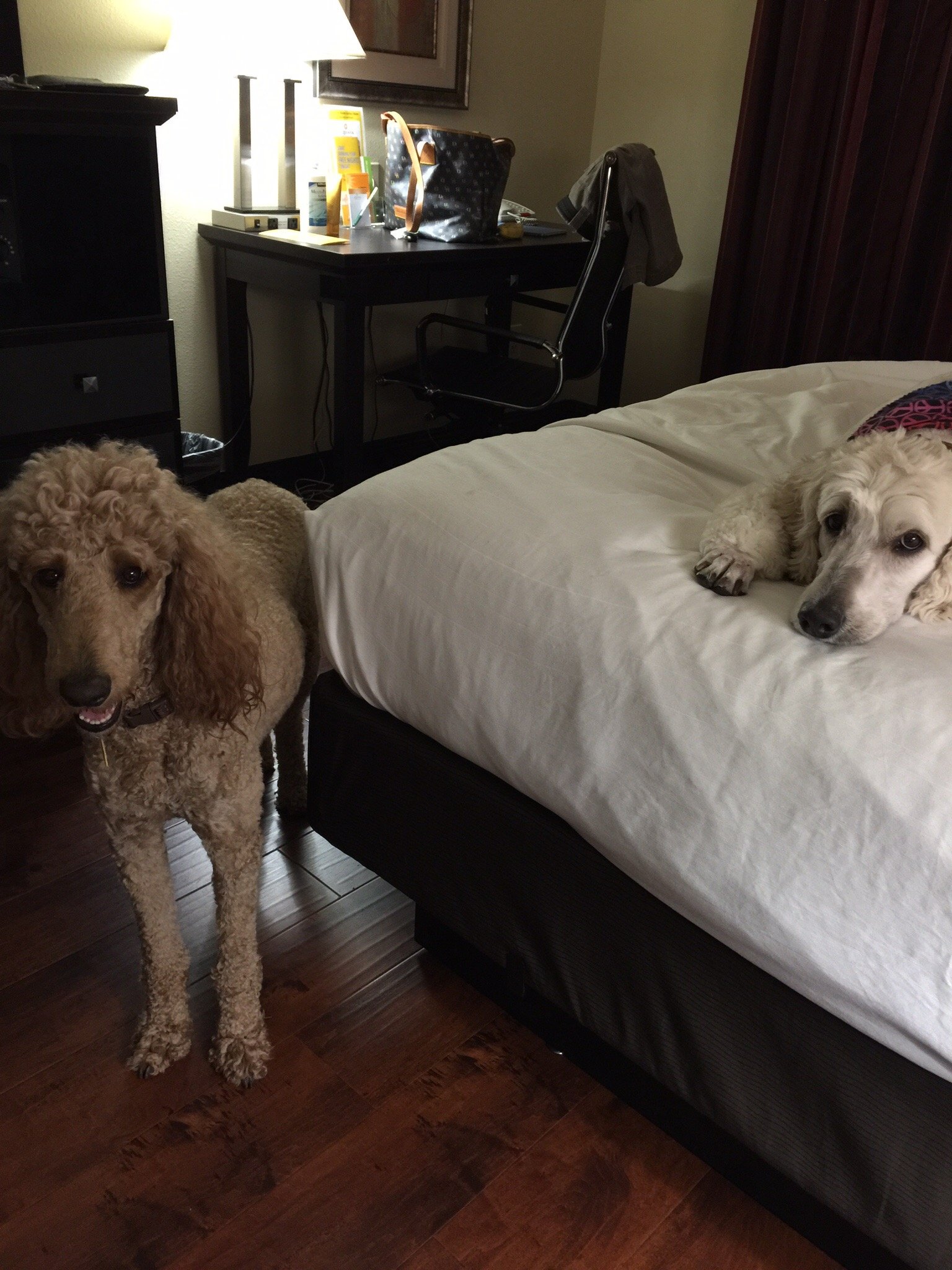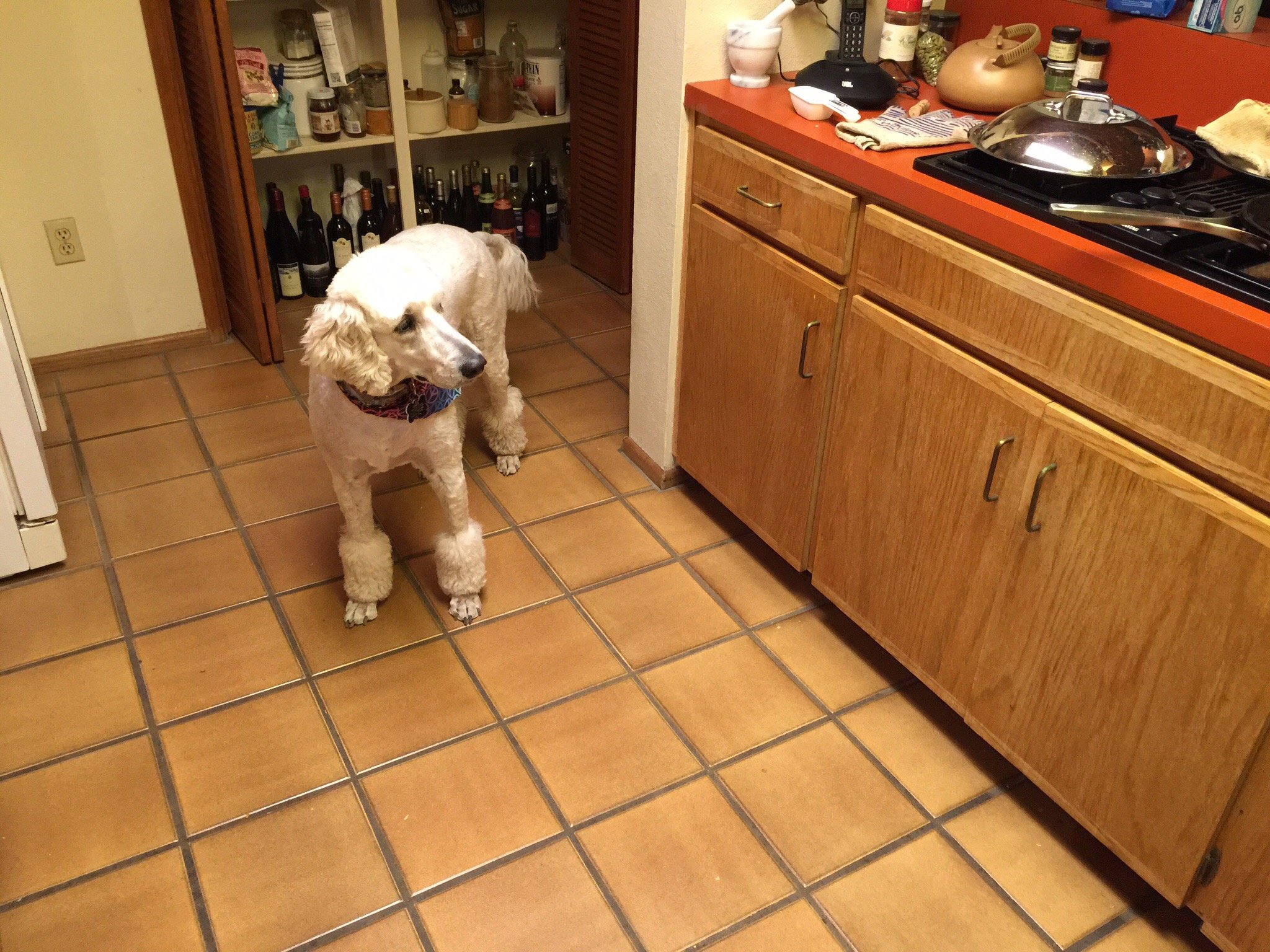 Back at the hotel room, after dinner. We were tired. Kaya was tentative about where she'd go rest. She was wasn't ready to join Chloe in bed, but after much pacing, she curled up on a chair for the night.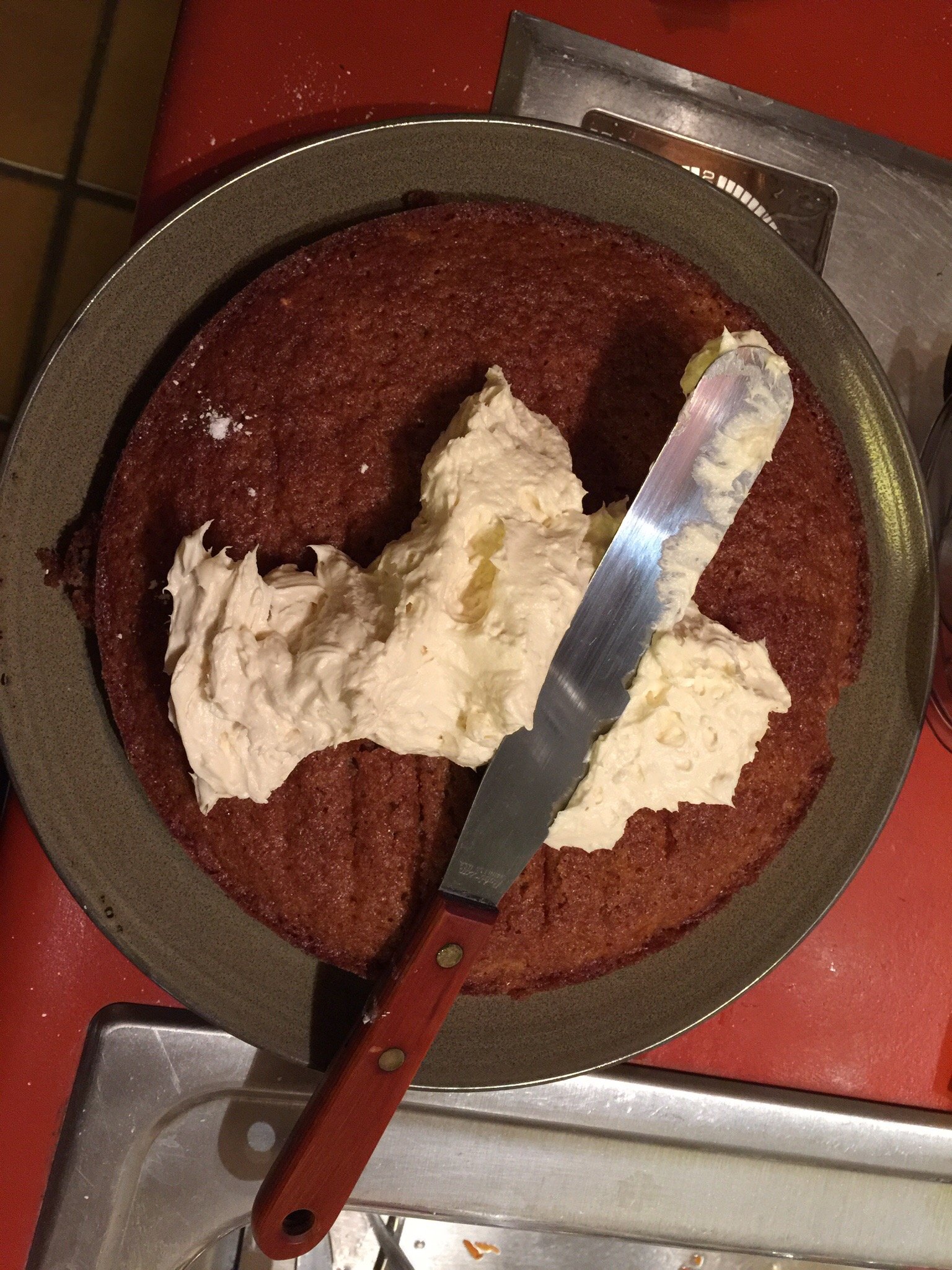 By early morning, Kaya had joined me up on the bed, while Chloe inspected our bags for extra cookies. She did not get enough, she said...
By mid morning, the girls sat together as if they'd known each other all their lives.
I signed the adoption papers, paid, and Kaya was ours. Wow. It seems unbelievable that you can find your family like this, reading an online listing and getting the most precious beings to be part of your life. It seems incredible. My heart is full.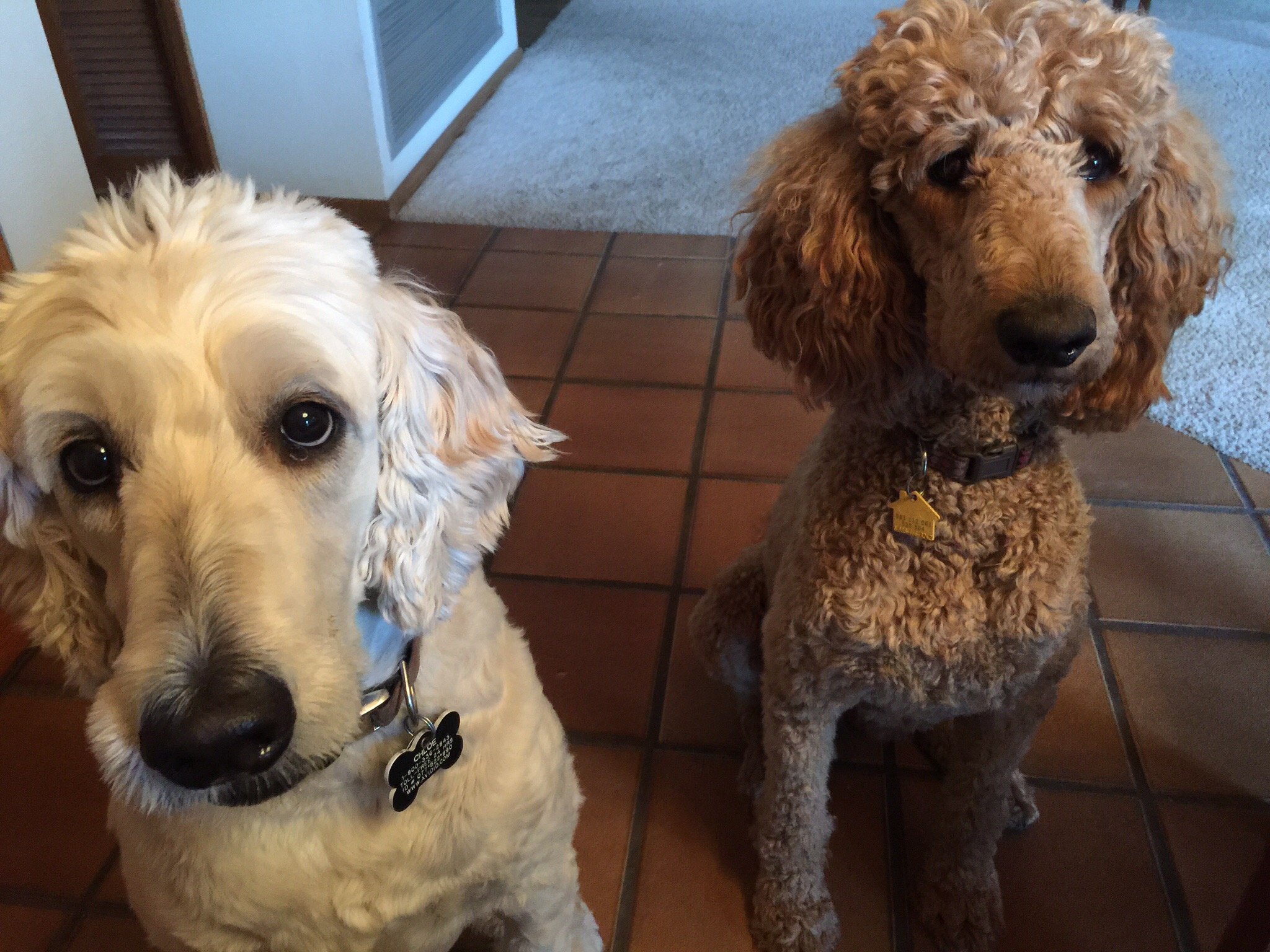 We looked for a local winery that was dog friendly and went to a wine tasting. As it turns out, most wineries in Temecula welcome dogs.
Over the past couple of weeks Kaya has settled in nicely. She knows how to rest and let go.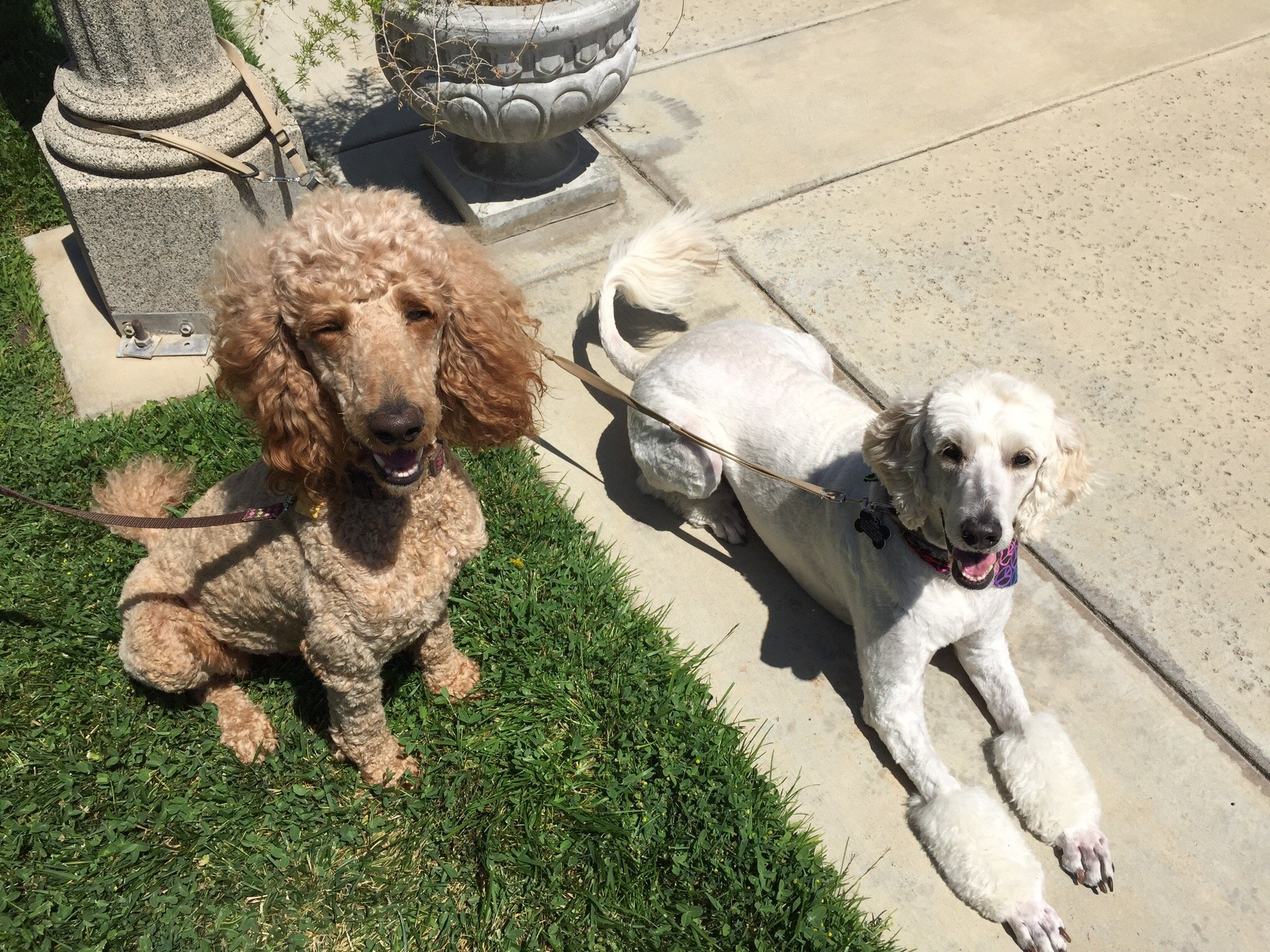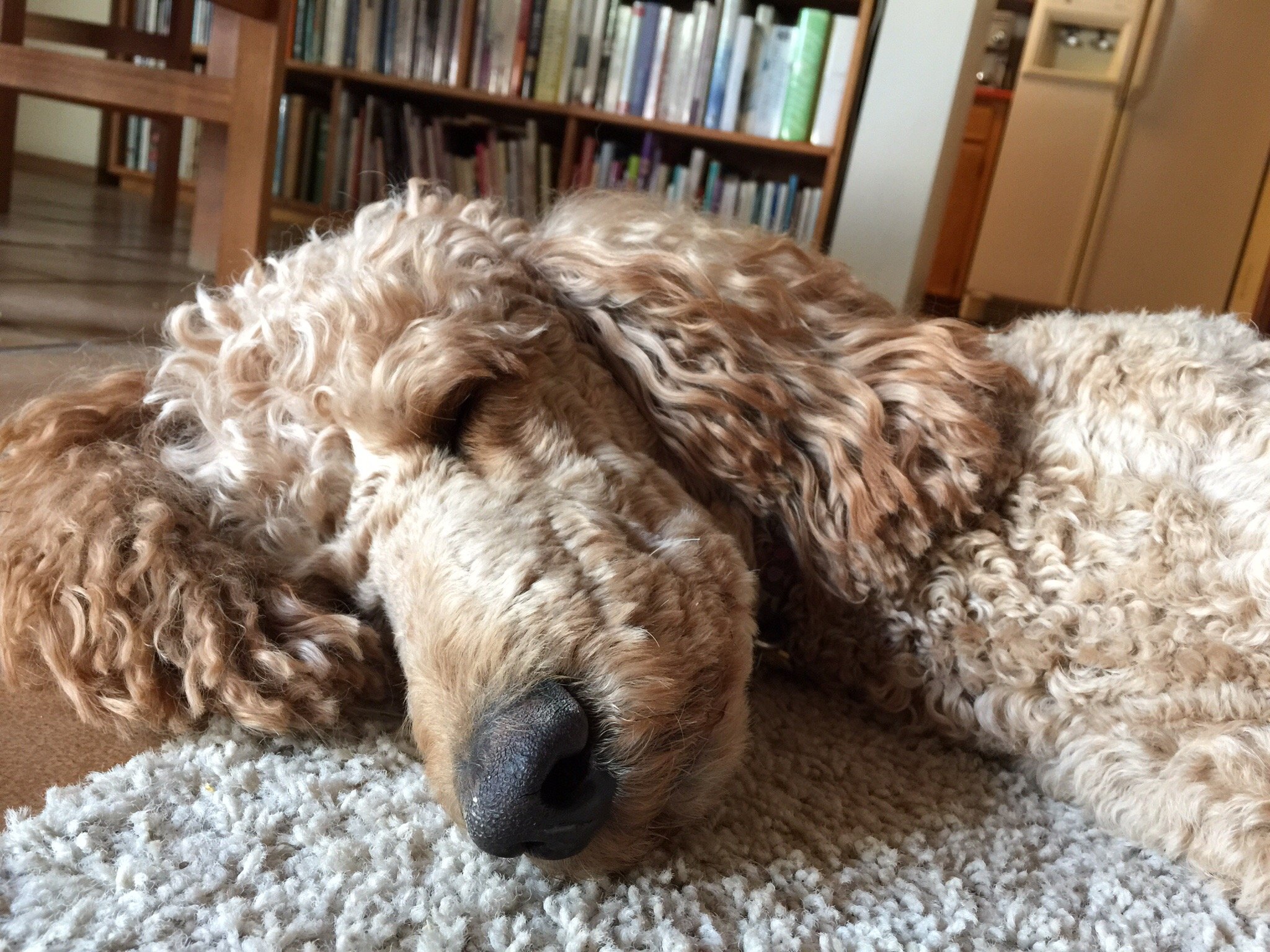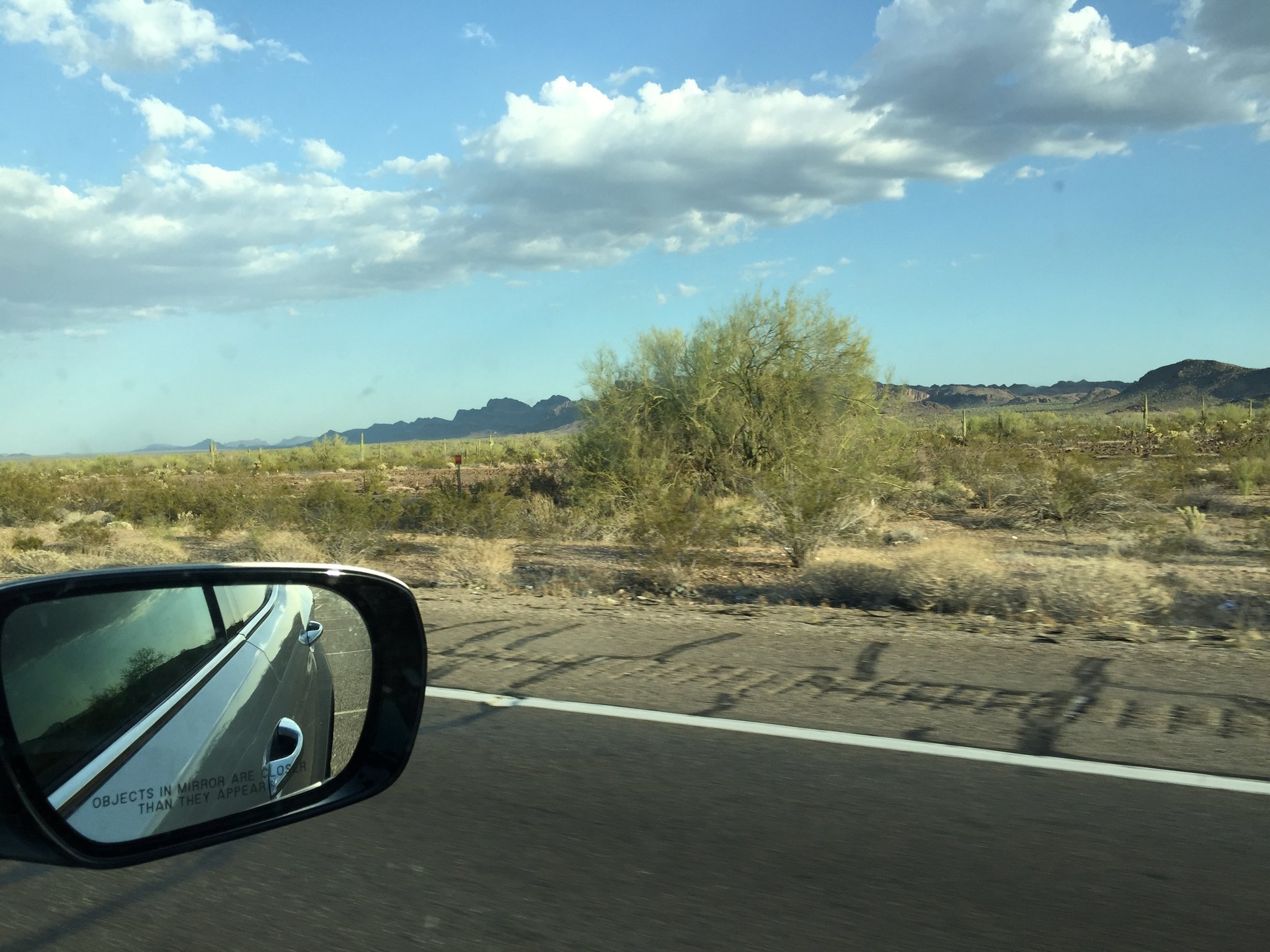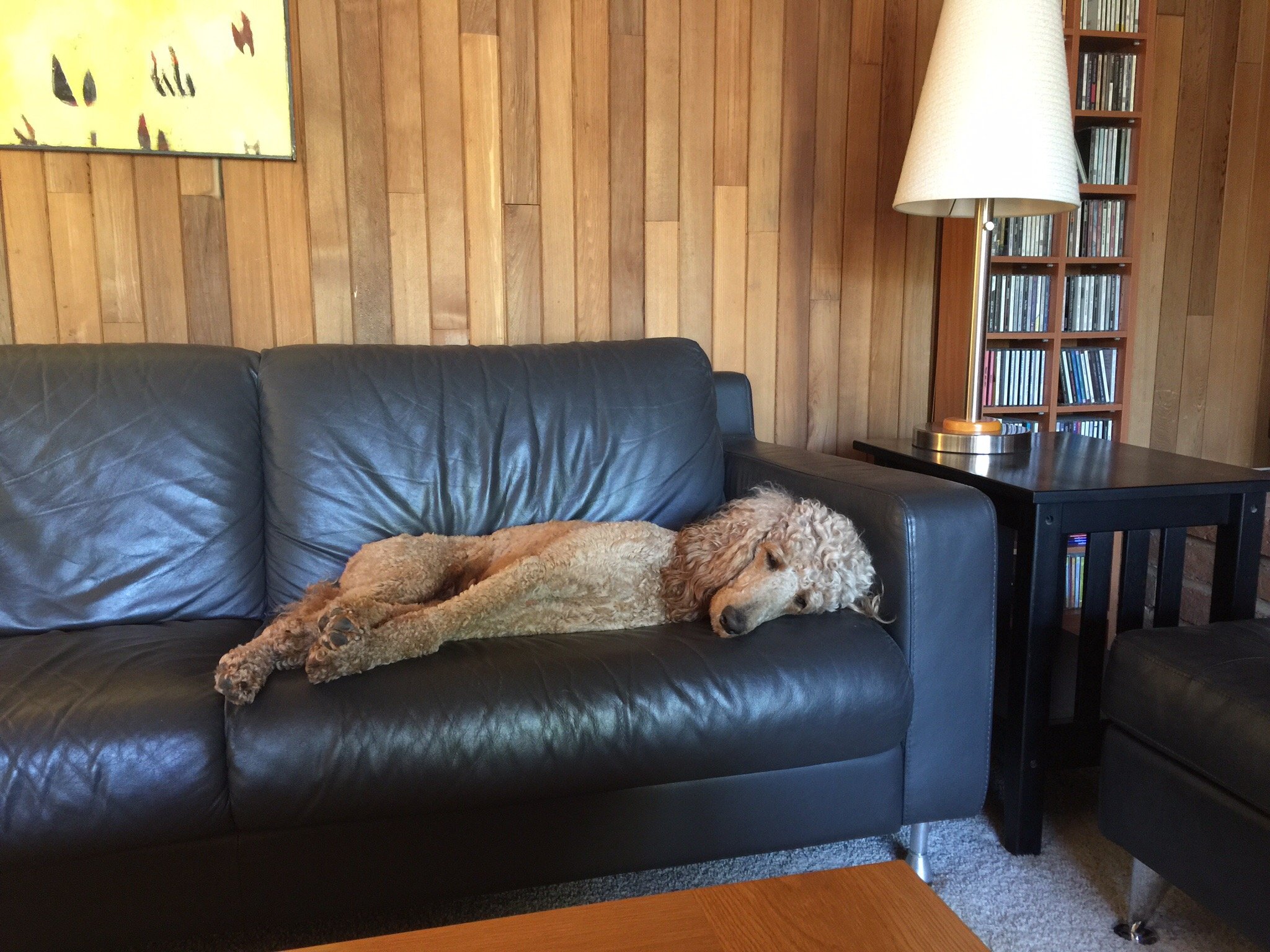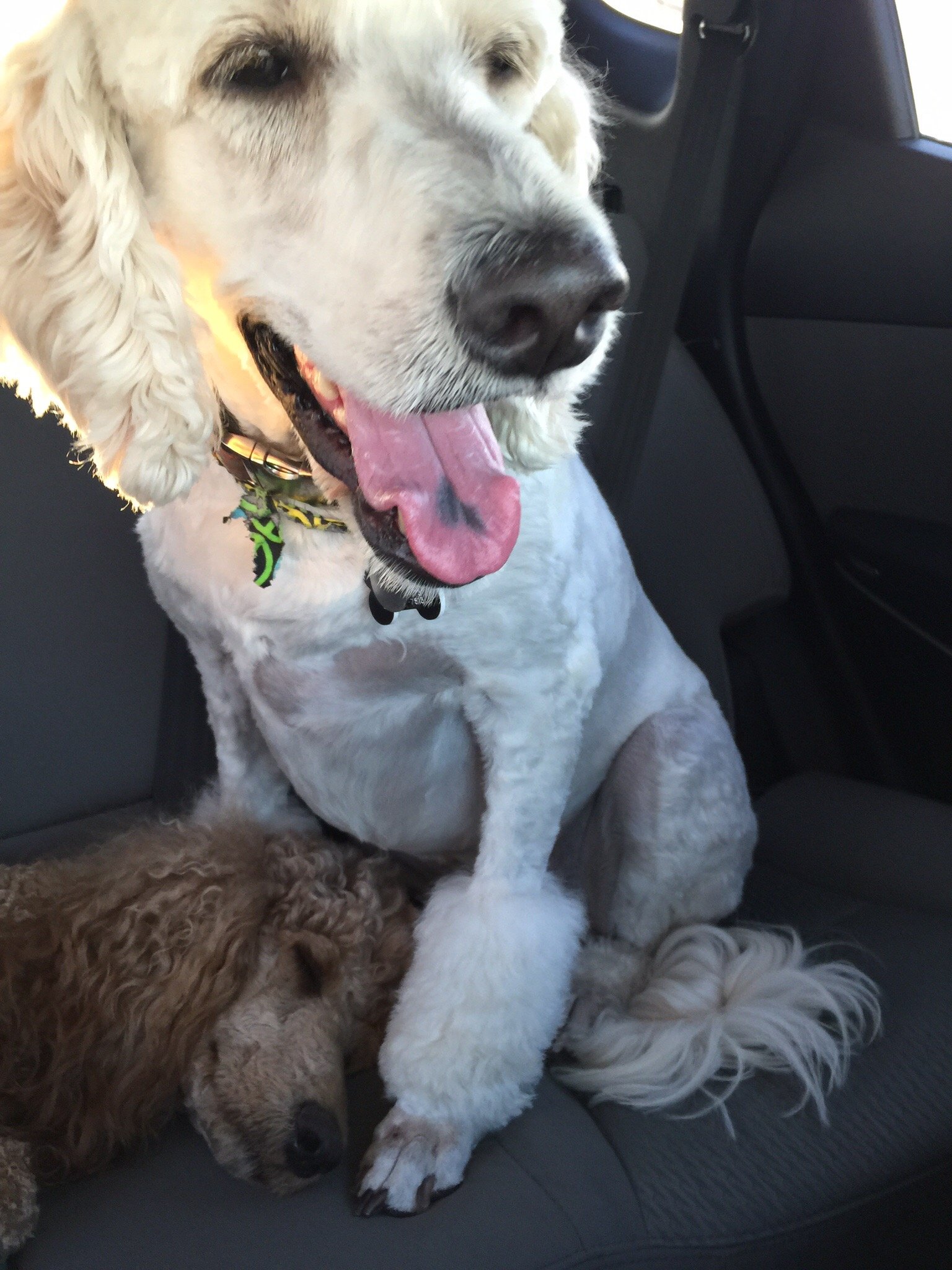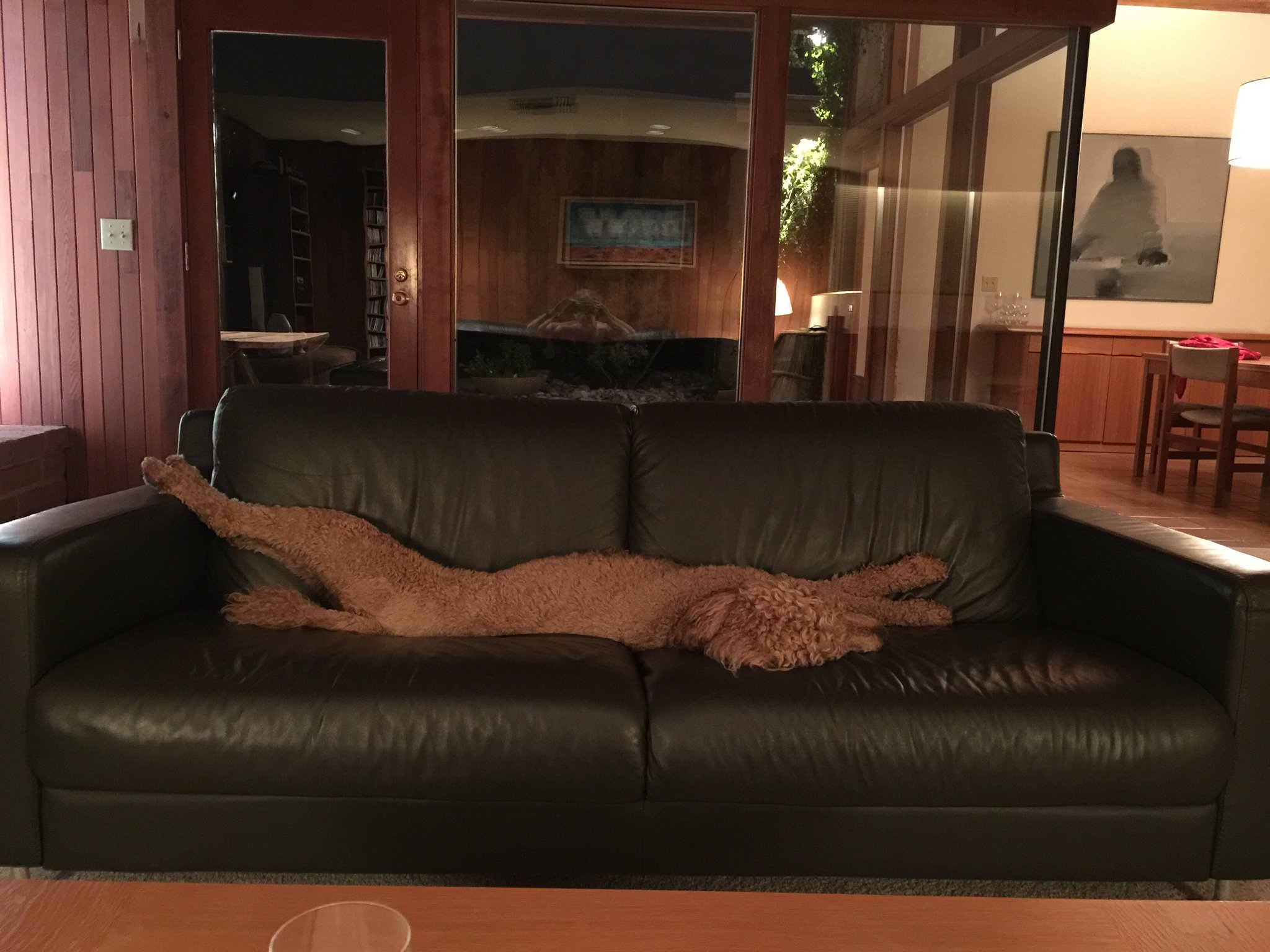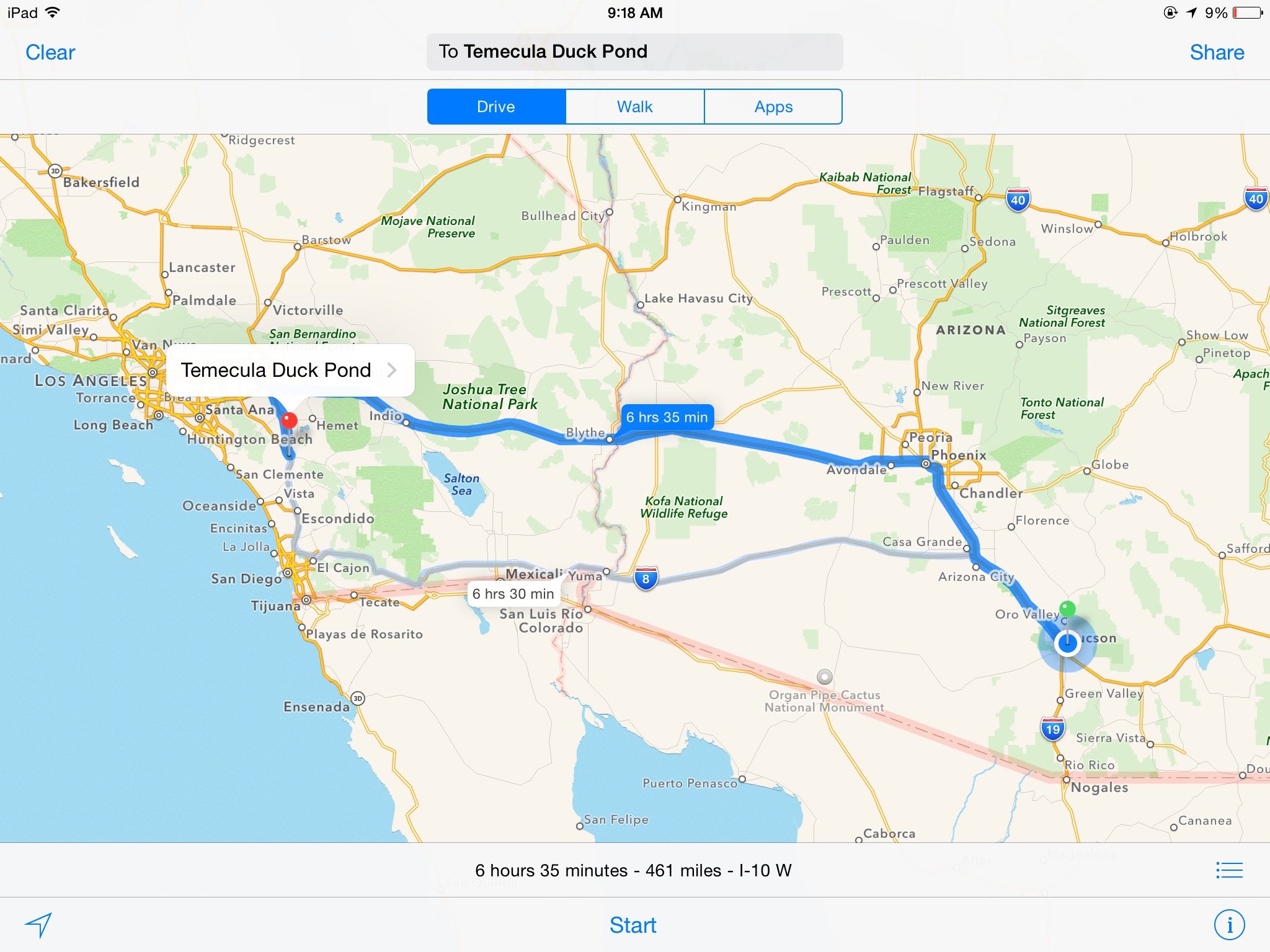 We sleep together. The queen size bed is no longer enough so this weekend I'm getting a king size bed. I hope the girls will let me use it.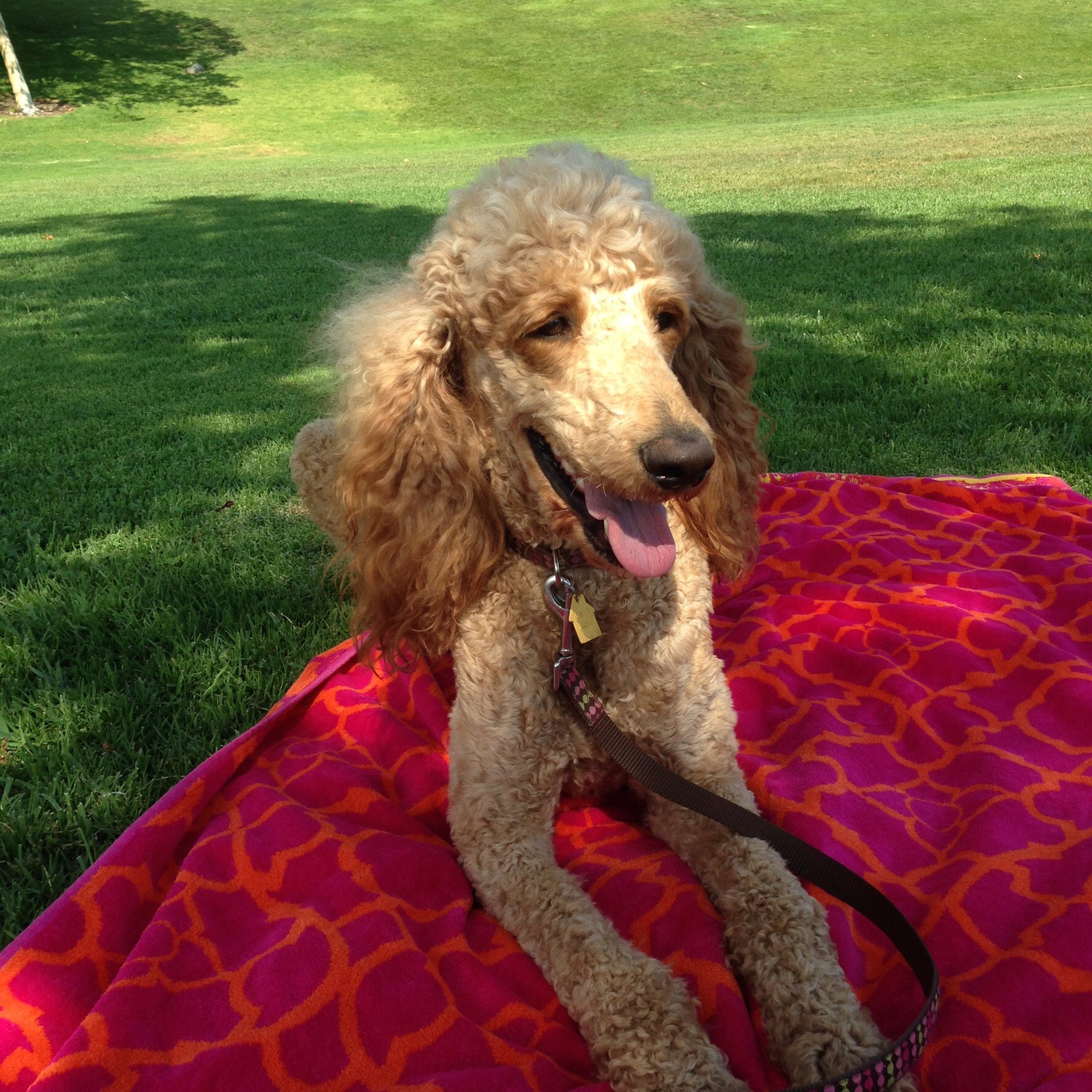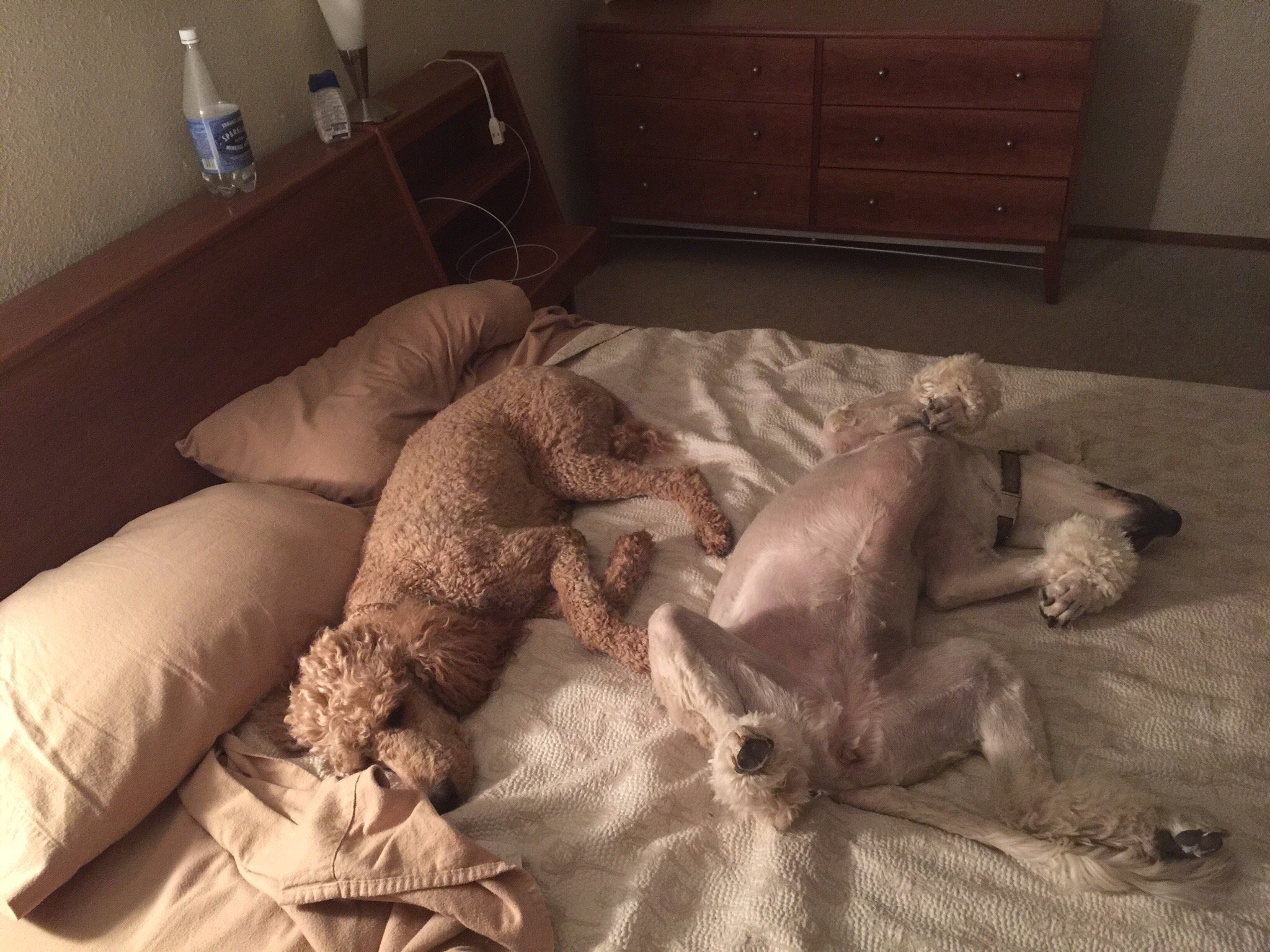 At first, Kaya was timid in the hotel room and paced around to check out the new environment. Meanwhile, Chloe was delighted to be on a trip and smiled all the time.
We went the the Old Town, Temecula, for dinner. There are many outdoor cafes and restaurants there, so we could take the girls with us. We found a nice little place and had a burger and a glass of wine. The restaurant offered a water bowl and hamburger patties for the girls. Ah, California, I love you. Chloe and Kaya were at their best behavior, smiling and calm.
Kaya is also a professional counter surfer, making Chloe seem like a mere amateur. Cake should not be out of reach, Kaya says, and she does her best to release it from its glass cage when I'm out.
Chloe and I inspect the damage when I return.
Other times, the girls conspire and empty the cookie jar.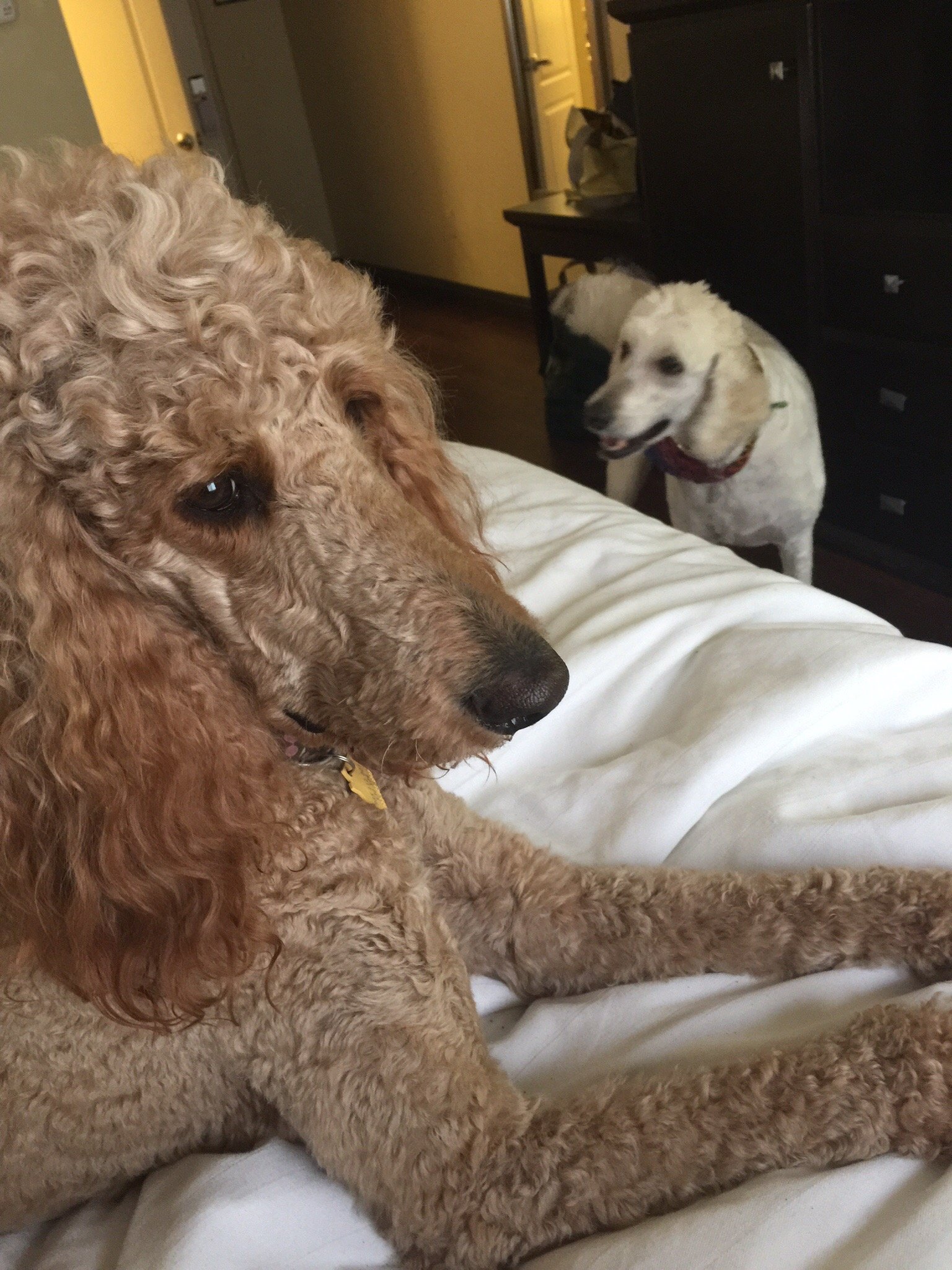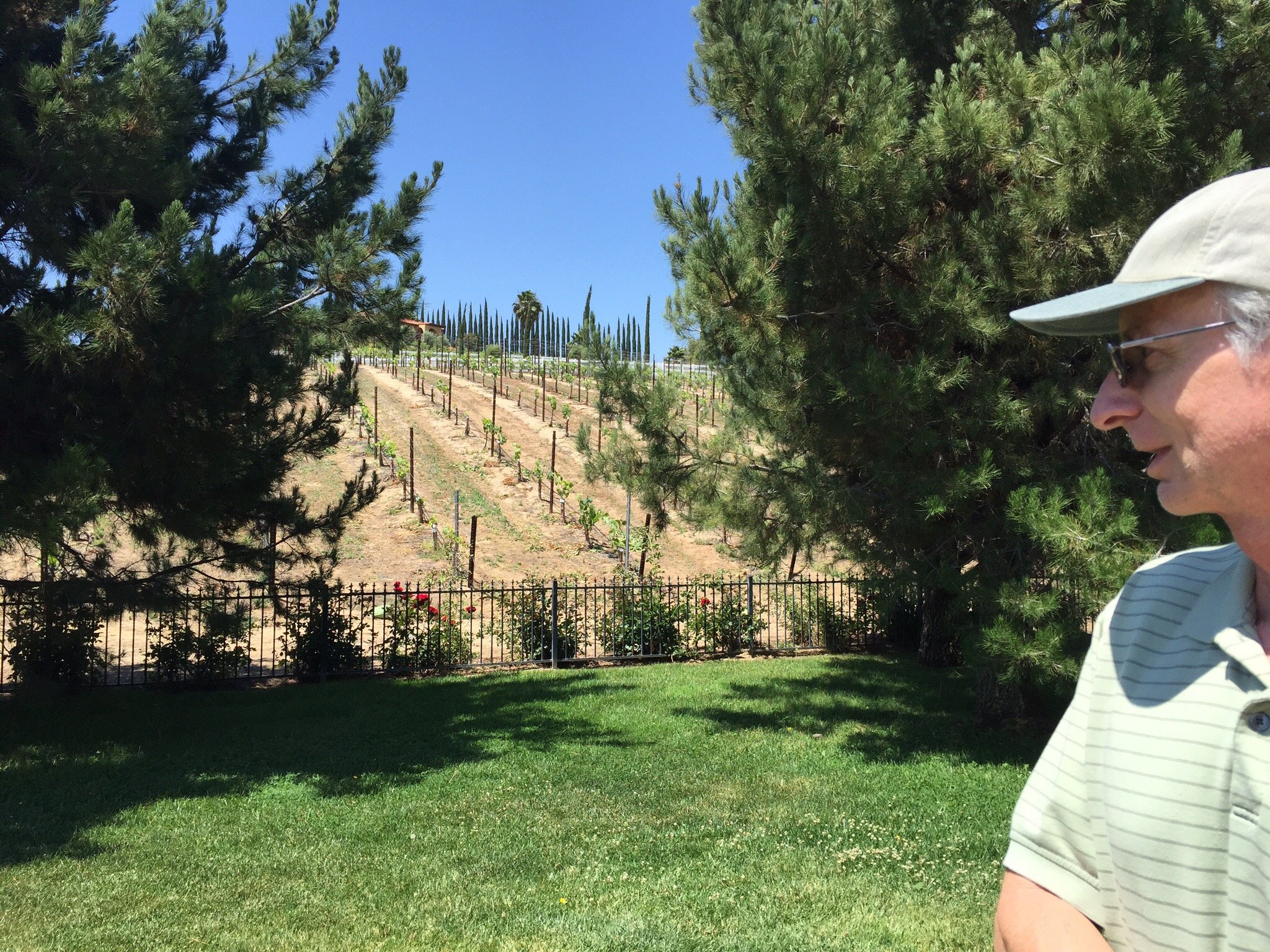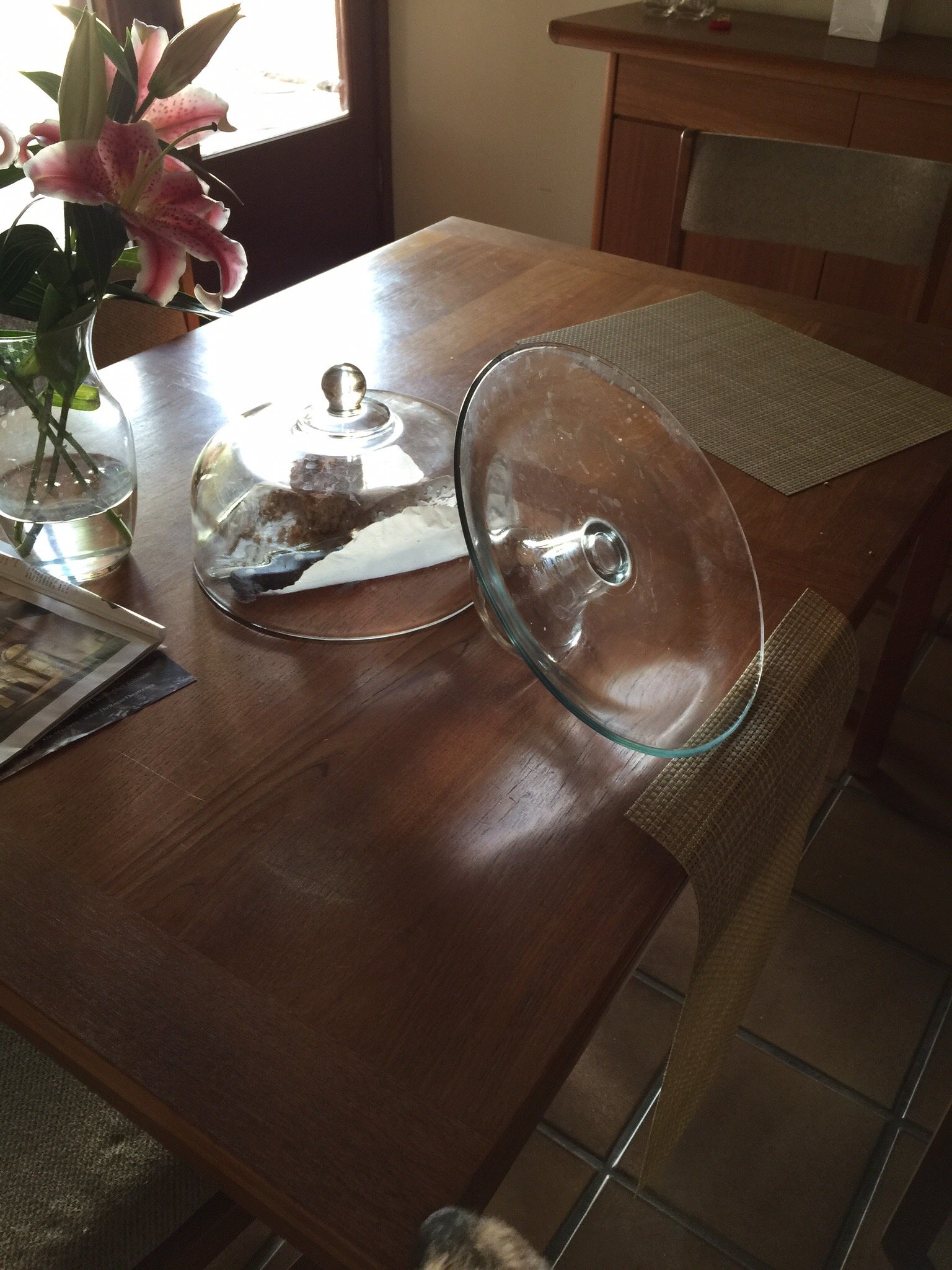 Kaya fell asleep in the back seat. The crate we had with us, just in case, was clearly unnecessary. Kaya was calm, happy and comfortable. And Chloe was her usual self, alert and awake for much of the drive.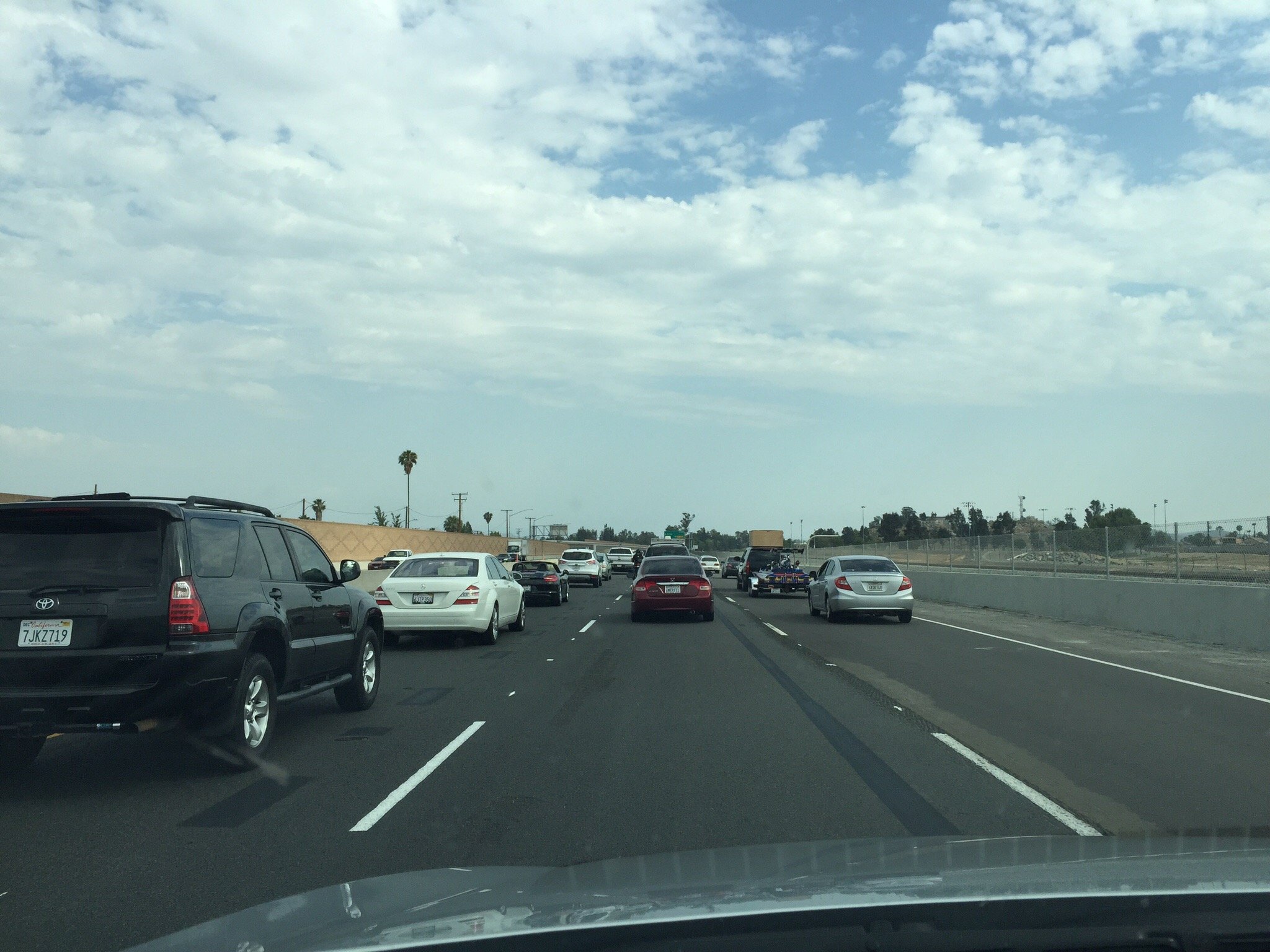 Three years ago, Chloe was a stray, roaming the streets of San Diego, but a wonderful rescue group took her in, posted her on Petfinder and I was the lucky one who got to adopt her. This summer, Kaya was let go by a breeder near Temecula, CA, and another wonderful rescue group took her in, posted her on Petfinder. I'll always be grateful to the work of volunteers who help homeless animals.
Chloe and Kaya.
Kaya and Chloe.
Two lovely girls, two sisters, one very happy home.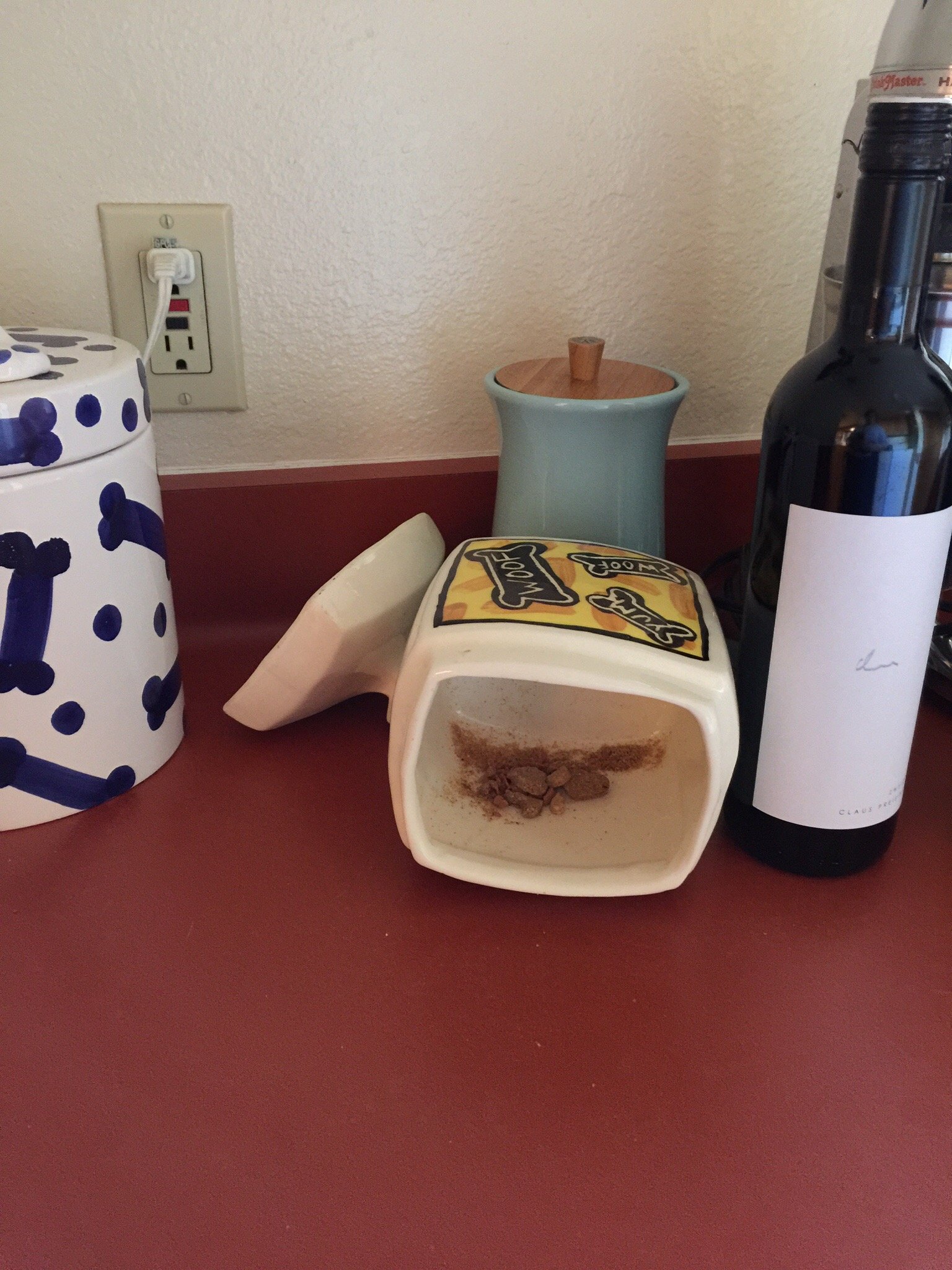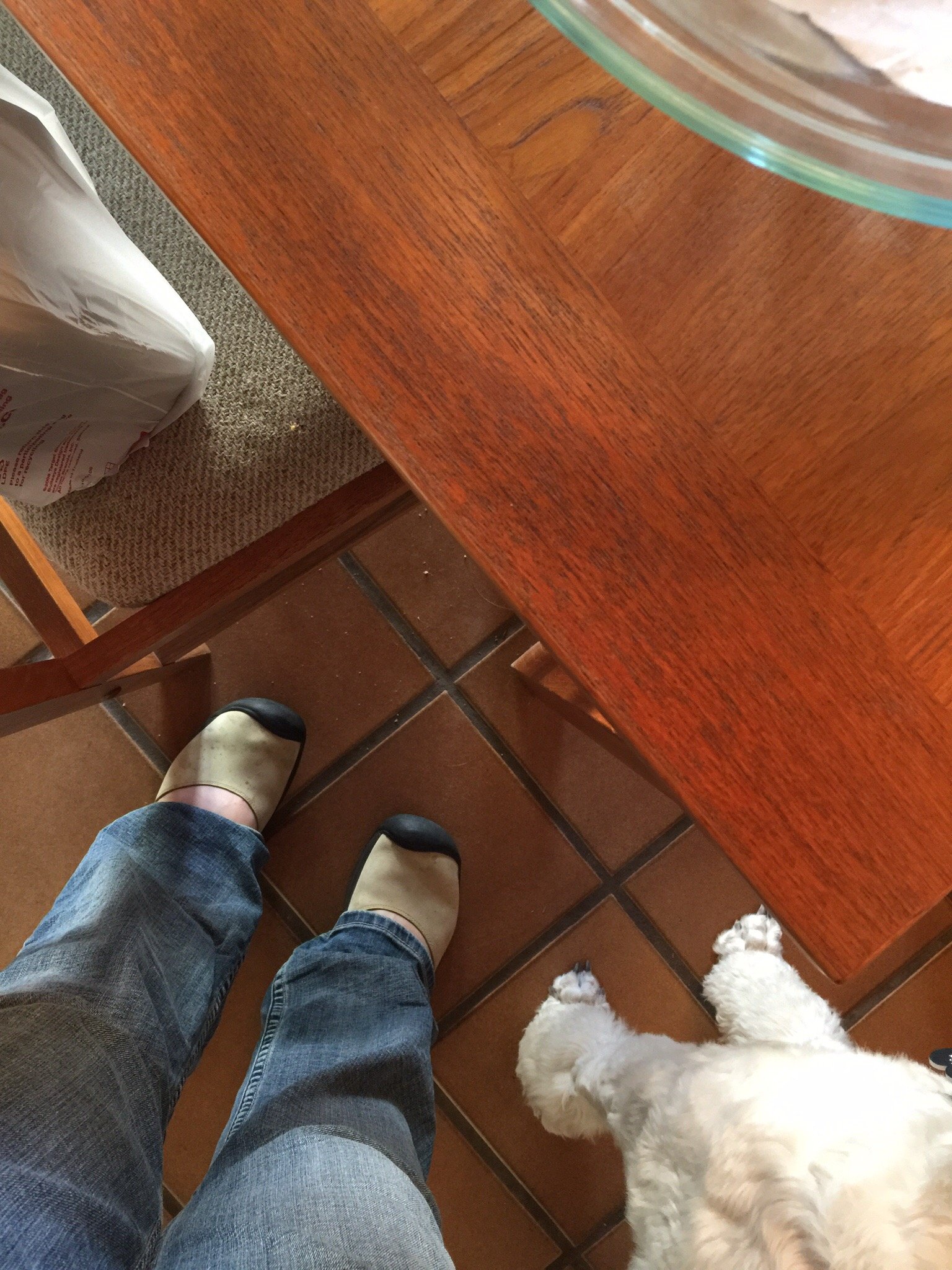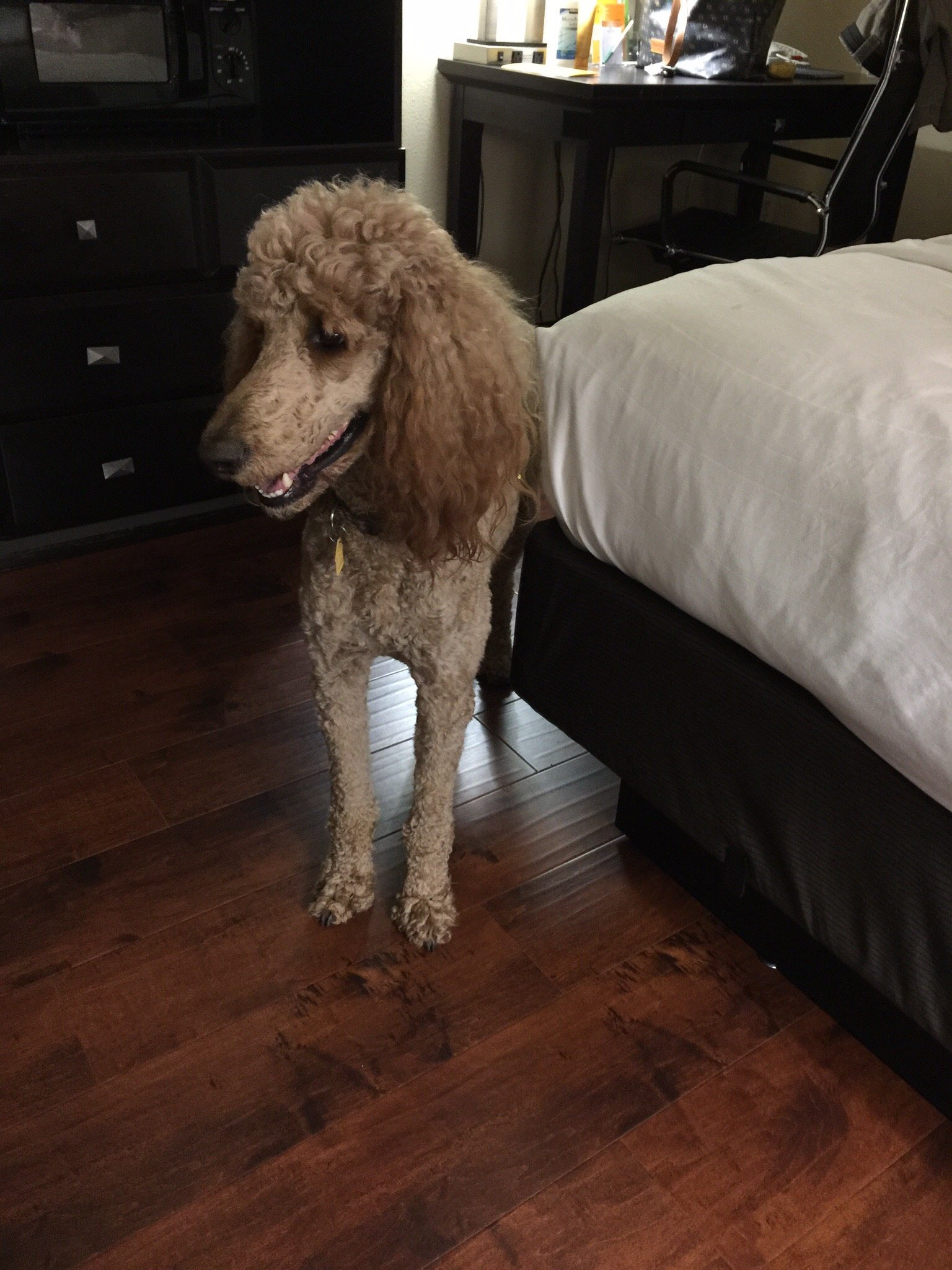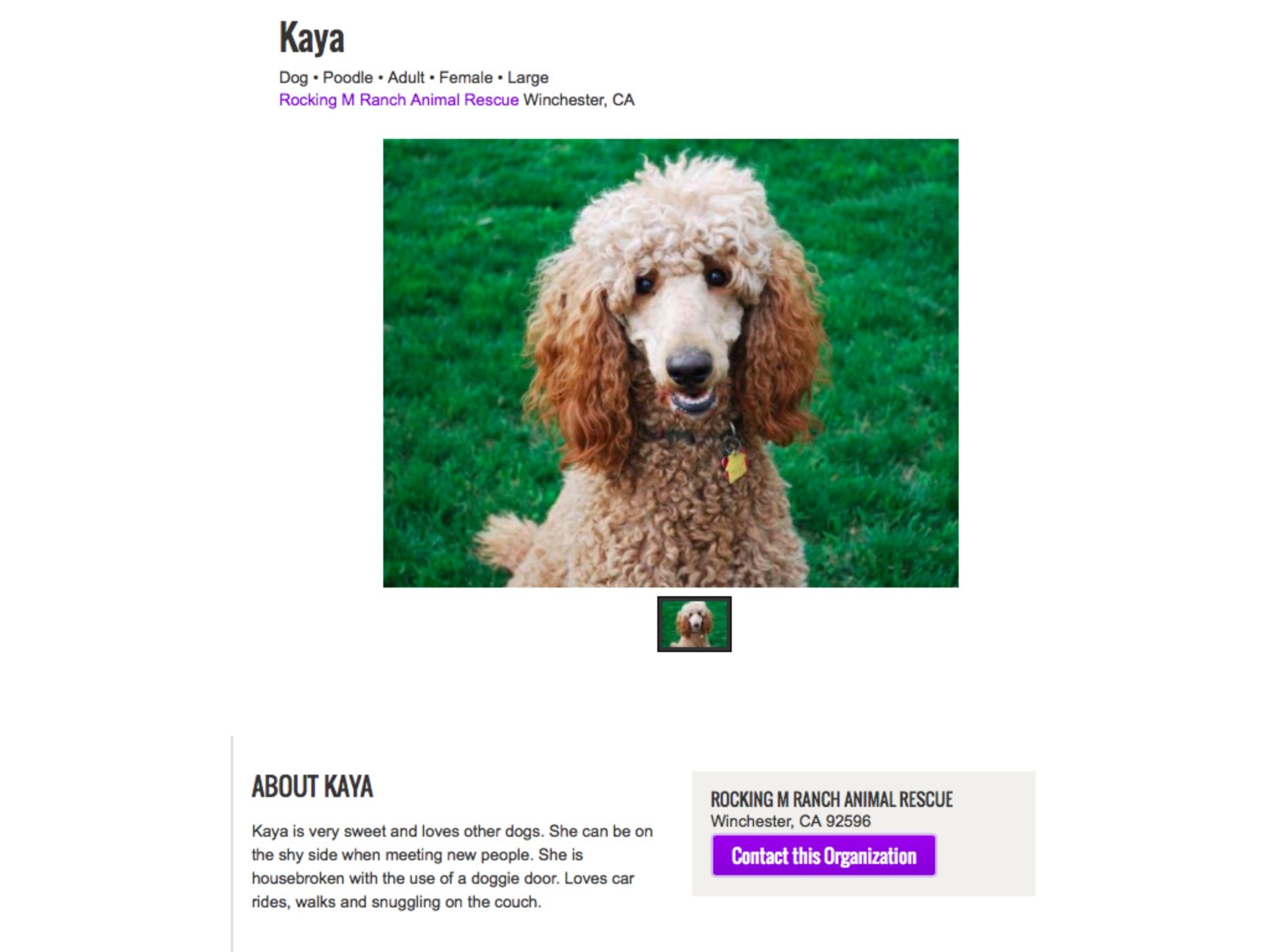 We had a delicious lunch of Tacos at Alberto's, and then started the trek back to Tucson, mid Saturday afternoon.
We rode the freeway, the sun slowly descending behind us, as we passed brush and sand and cactus. I will teach Kaya the structures and syntax of the land: saguaros, ocotillos, prickly pears, creosote. Welcome to the Sonoran desert, sweet girl.